5 Ideas for a Unique Getaway This Fall
Shake up your fall traditions this year with a spontaneous weekend trip to one of South Carolina's most discreet beach destinations.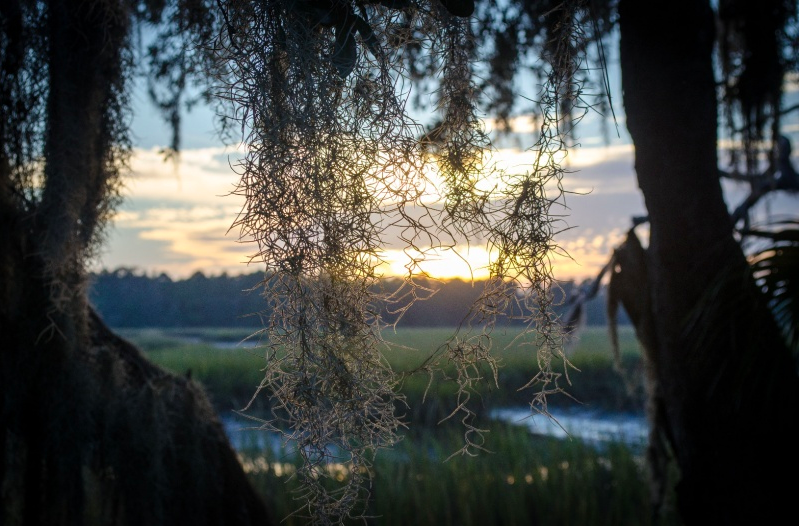 Most of us don't think of hitting the coast for a fall getaway, but this nearby beach town draped in Spanish moss will change your mind. While the breathtaking scenery of Edisto Beach, South Carolina, is enough to draw eager eyes in, the island's unique experiences make for an amazing fall getaway you never knew you needed.
For the outdoor enthusiast… Catch a fishing tournament
Looking to step outside the pumpkin patch this fall? Look no further than the Edisto Watersports 2019 Redfish Tournament on October 19. The crisp, salty air will catch you by surprise and leave you undeniably refreshed. Whether you're an angler or a spectator, you'll enjoy the sights and sounds at this unexpected event.
Bring a piece of Charlotte (and pumpkin spice) with one of NoDa Brewing Company's Gordgeous spiced ales so you can sip the flavors of the season while waiting for your catch of the day. To learn more about the tournament, call 843-631-0802.
For the art aficionado… Experience American Craft Week or peruse a fall art market
Already eyed and memorized Charlotte's art scene? Support regional artists in an unexpected destination for fresh inspiration, and venture down to Edisto Island October 4 to experience American Craft Week. This year, American Craft Week host, Edisto's own With These Hands Gallery, is celebrating its 35th year of bringing beauty to the beach, so this event will double as a gallery anniversary celebration and an American Craft Week event!
Featuring the chance to meet artist Nancy H. Joyce, it's hard to believe it's free to attend this event, especially with the food, drinks, and door prizes promised. It goes from 5 to 7 p.m., so arrive early for the best selection. (Check out the gallery's Facebook Page for updates.)
If you can't make this event, don't fret—The Edisto Art Guild holds seasonal art markets where local artisans and craftsmen gather to display an assortment of fine art and gifts alike. Stroll the fall 2019 art market on October 26, 2019, from 10 a.m. to 4 p.m. in the grassy lot adjacent to the Edistonian General Store: 406 Highway 174, Edisto Island, S.C. 29438.
For the architecture and history buff… Explore the island's past
Edisto Island's rich history is full of interesting facts to uncover. Dive into this beautiful island's storied past at the Edisto Island Museum, where you'll see exhibits ranging from the Civil War through the early twentieth century—all outfitted with fascinating artifacts, displays, and collections from simpler times.
The popular self-guided Edisto & Beyond Tour is a hit, too—so mark your calendar for 2020 (it's already sold out for 2019). For information about the museum, call 843-869-1954, or take a peek at their online gift shop.
For the conservationist… Crack open oysters on a local farm
How do steamed oysters and a classic Lowcountry boil sound? Soak in Sand Creek Farm's atmosphere on October 27 at 2 p.m. as you scarf down fresh seafood and listen to live music creek-side during the Edisto Island Open Land Trust Oyster Roast.
In preparation, purchase your tickets online or call 843-869-9004 to reserve your plate (and the free beer and wine that's included). With a seat at this seafood event, you'll also be supporting the town's conservation efforts, which include environmental education and restoration of the Hutchinson House.
For the fall fest fanatic… Stroll a street fair
If it wasn't obvious already, Edisto Beach is all in favor of supporting its local art scene. Enjoy everything street fairs have to offer at Edisto Beach's Fall Festival. Featuring arts and crafts, bake sales, and tables sponsored by all kind of local businesses and artisans, this festival takes place on Saturday, October 19, beginning at 11 a.m.—perfectly with your morning coffee stroll and an eye for a thoughtful gift or keepsake.
Vendors will be there until 4 p.m. in front of Palmetto Plaza. For more information, check out the fair sponsor's website.
These five getaway ideas are less than four hours away from Charlotte, making a good case for a unique trip this autumn. Plus, any day you wake up at the beach is a good day. Choose among quirky, luxurious, or resort-style accommodations for your stay in Edisto Beach with the wide range of options: Click here to check out the accommodation options, and book your fall getaway before everyone else does.