5 Little Ways to Update Your Kitchen for Big Impact
The difference is in the details.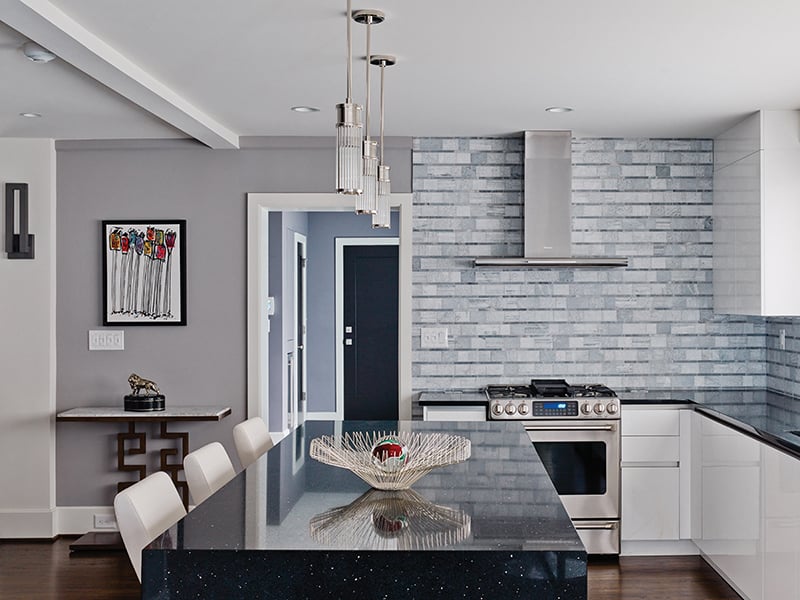 Every now and then, your home can start to feel a bit stale. And while it would be nice to completely restructure and renovate, sometimes such a pricey fix isn't supported by your budget.
But that doesn't mean you can't switch up your style.
Especially in the busiest room in the house—the kitchen—all you need are some small changes to make a big impact. Updates like new storage solutions, fresh paint, and even modern hardware can make a world of difference in your kitchen. Don't believe us? Try the below simple changes to update your kitchen, and let us know if you're still craving a total overhaul. We doubt you will be.
Fresh Paint Job
Who said kitchens had to have all-white walls? For an instant update that will completely transform the look and feel of the room, consider giving your kitchen walls an unexpected hue. An earthy green or an appetite-inducing red will surely amp up the energy in the room.
Replace Hardware
Although sparkling new cabinets would be fabulous, they're also an expensive update. But you can easily rejuvenate outdated cabinet door and drawer details with modern knobs and pulls. The juxtaposition of new hardware on older cabinetry will also add stylish character, an element that enriches every space.
Be Open
…About your shelving, that is. If you're constantly struggling for space in a small kitchen, consider putting your pretty dishware on display instead of hiding it in a cabinet. Displaying items such as stately serve ware is a sneaky way to free up some storage space, and it's surprisingly attractive so long as you keep it organized. Also worth noting: Open shelves and pantries are on the rise trend-wise.
Double-Duty Textiles
When in doubt, cover up tellingly old furniture with some smart textiles. Simply by adding a tablecloth or runner to a beat-up table, you're giving it new life and plenty of personality. Consider placing stylish rugs and mats over unsightly spots on your floor as well. It's a quick-fix that will help tide over your sanity until you save up for a real renovation.
Switch the Seating
For a different vibe, change up the chairs. You can buy a couple contrasting styles to mix in for an eclectic look or switch out a set altogether for more modern seats. Or, if you don't want to buy some brand-new, simply reupholster your existing chairs using this easy DIY.