5 Must-Visit Charlotte Festivals: October 2021
From food to dragon boats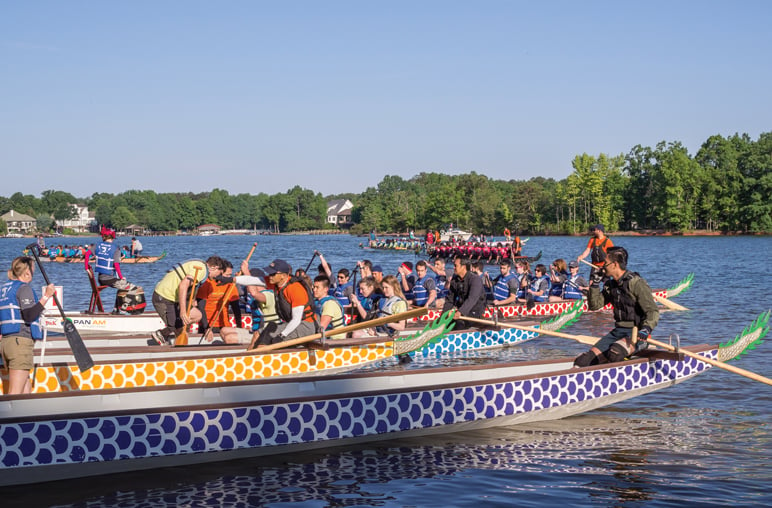 Tuck Fest
Oct. 1-3
U.S. National Whitewater Center, 5000 Whitewater Center Parkway
Tuck Fest combines outdoor competitions and live music. Those of us who don't want to swim, bike, climb, or kayak can take in a full slate of performers: Dawes, Hiss Golden Messenger, Ida Mae, Steep Canyon Rangers, and more.
Taste of Charlotte
Truist Field
Oct. 1-3
The major food festival returns, with tastings from area restaurants, live music, shopping, and more. Participating restaurants include Mert's, Mac's, SouthBound, Fuel, Stoke, Mister 3's Crab Pot, and several others. This year's event also includes  Taste of Charlotte's 1-Mile Cupcake Run/Walk & Breast Cancer Awareness Lap, which supports GoJenGo.org. 
Carolina Renaissance Festival
Oct. 2-Nov. 21
16445 Poplar Tent Road, Huntersville
Fantasy fans can see the Huntersville property once again transformed into a 16th-century utopia. Grab a turkey leg and beer, and head to the jousts, where knights vie for the queen's favor. Don't be afraid to come in costume: Carolina Renaissance Festival organizers estimate that 40% of attendees come decked out in medieval garb.
Charlotte Dragon Boat Festival and Asian Festival
Oct. 23
Ramsey Creek Park, 18441 Nantz Road, Cornelius
Here be dragons, again: On October 16, leviathans descend upon Lake Norman for the 15th annual Dragon Boat Race, part of the annual Charlotte Asian Festival at Ramsey Creek Park. The team competition is part of a Chinese tradition that's more than 2,000 years old. COVID canceled last year's event, but organizers from the Carolinas Asian-American Chamber of Commerce and the Charlotte Dragon Boat Association confirm that the 200-meter bout is back for 2021.
Kings Drive Art Walk
Oct. 30-31
Little Sugar Creek Greenway, 600 South Kings Dr.
This arts and crafts event is an extension of Festival in the Park, which has been around since the mid-1960s. See a collection of canvases, listen to music, and check out other entertainment offerings on the scenic greenway. It runs 11 a.m.-6 p.m. on Satuday and 11 a.m.-5 p.m. on Sunday.