5 Notable H+G Tidbits
Garden deals, fall planting begins, & new exhibitions open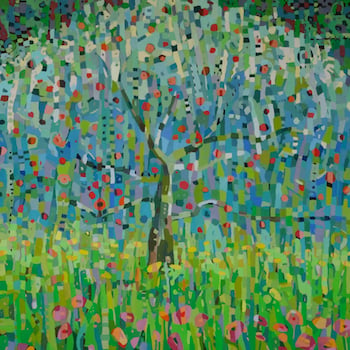 As August draws to a close, we send out summer and welcome fall. Honor the change of season with these local opportunities.
1. Visit Daniel Stowe Botanical Garden now through August 31 for BOGO admission. When one person pays, another is admitted free. You must present the coupon; click here to download. (General admission for adults is $12.95 and $6.95 for children.) While you're there, take advantage of The Garden Store's end-of-summer clearance sale, which runs now through August 31.
2. This Saturday, Matthews Community Farmers' Market will have the last of the summer's peaches. Pee Dee Orchard in Wadesboro will load up its final picking of the season and bring them to market. Apples are already appearing at the market, too. Gala and golden supreme varieties will be available from Davis & Son Orchard in Lincoln County. Peaches and apples are part of the market's annual fund-raiser, so funds from the sale of these fruits go toward market expenses.
3. Bluebird Farm in Morganton, which sets up at the Charlotte Regional Farmers Market, offers a fall CSA program. Participants purchase a share of the harvest and receive fresh vegetables and herbs for seven weeks, September 30-November 11. The farm also offers a chicken share, where members pick up pasture-raised broiler chickens once a month. Those who purchase a vegetable share, can also add on an egg share. Click here for details and to sign up.
4. Speaking of fall, fall planting season is upon us. If you haven't readied your gardens and beds and purchased your seeds or transplants, now is the time. Renfrow Hardware in downtown Matthews is a good source of all the fall crops, such as broccoli, cabbage, kale, collards, lettuce, and herbs.
5. Next Friday, Ciel Gallery in South End opens its new exhibition called Inhabit. Artists Jean Cauthen and Jonathan Grauel express the theme of "dwellings" through their works. Cauthen's pieces depict neighborhoods and abstracted forest interiors, while Grauel portrays fantastic villages. The artists demonstrate how one theme can be taken in two very different directions. The opening reception is Friday, September 4, from 6 p.m. to 9 p.m.