5 of Our Favorite Master Bedrooms
These rooms offer much more than a mattress and a few pillows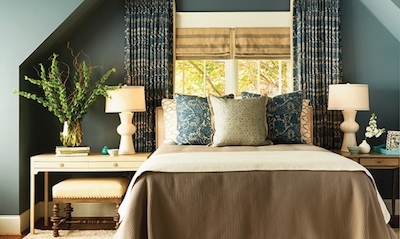 Oftentimes the front areas of our homes receive the most attention. The living room, dining room, and kitchen function as entertaining areas, so we keep them company-ready. Even the guest bathroom gets special treatment.
But we shouldn't neglect the rooms designed for us. The spaces that we use every day, particularly our master bedrooms and bathrooms, should comfort us. They should feel like a retreat at the end of the day. Here we offer five of our favorite master bedrooms. (Click the photos for the full stories.) They are proof that we shouldn't skimp on the personal areas of our homes.
Calming colors. In the latest issue of Charlotte Home + Garden, we find this relaxing room designed by Donna Livingston. She suggests a soothing color palette for the bedroom. Although many people are wary of darker colors because they think they'll make the room look smaller, Livingston says that's not always bad. "Who doesn't want a bedroom that's cozy?" she asks.
photo by dustin peck
Old and new. Jack and Kim Trouten remodeled a 1940s Chantilly bungalow. Throughout the home, they combined traditional and modern aspects. In the master bedroom, Kim mixed flea-market finds with items purchased at big-box stores. The Victorian-era iron bed is paired with modern, mirrored end tables. Kim made the full-length mirror out of an old door she found at the Habitat for Humanity ReStore.
photo by joel lassiter
Mix and match. Designer Michel Van Devender describes her style as bohemian. When she and her husband, Ladd, purchased their five-bedroom Elizabeth home, Michel mixed colors, textures, and patterns throughout the house. She completed her three sons' bedrooms before the master. She incorporated ideas and colors from the kids' rooms but presented them in a grown-up way.
photo by chris edwards
Bed nook. Architects Ken Pursley and Craig Dixon nested the bed inside this cocoon-like frame, which anchors the bedside tables and keeps things tucked in. The window above the headboard brings in natural light, and the neutral tones add serenity. The room is simple and clean-lined, but the throw pillows lend texture and color for interest.
photo by logan cyrus
Reserved. Rebecca Brooks, co-owner of Hidell Brooks Gallery, teamed up with interior designer Beth Keim, of Lucy and Company, to create a cohesive home design centered on art. The bedroom is dominated by whites and creams. The bed and hanging nightstands are new additions, while the wallpaper print mixes vintage and modern. Although most rooms in the home are bright with color, the muted colors in the bedroom create a peaceful place.
photo by joel lassiter