5 Porches We Love
We welcome summer by highlighting a few delightful places to enjoy these long evenings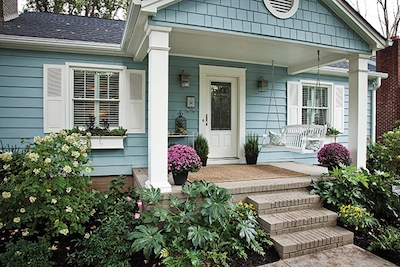 In honor of summer's Saturday arrival, we found some of our favorite porches from Charlotte Home + Garden. Click the photos to read the full stories. And then take a seat outside to soak up as much daylight as you can on the longest days of the year.
Charming: When this 1940s Chantilly bungalow went on the market, Jack and Kim Trouten were smitten. We love their use of color outside and their inviting porch swing.
Photo by Joel Lassiter
Screened-in: In our latest issue (which just arrived!), we take a look at Gary and Cindy LaBrosse's renovation to their SouthPark home. One of their first projects was to contract Andrew Roby to turn a slate porch into a screened-in porch that overlooks their pool.
Photo by Logan Cyrus
Traditional: Millie and Tom Cox designed their SouthPark dream home themselves. Their sweeping front porch is a classic Southern style that's wide enough for a dining set and plenty of rocking chairs.
Photo by Joel Lassiter
Double-decker: On the banks of Briar Creek, Kyle and Abby Hedges enjoy their vacation-like home that could easily fit in a mountainside community. The top floor's screened-in porch has a door that opens to a spiral staricase leading to the spacious deck made of treated lumber.
Photo by Logan Cyrus
Renovation: When Cameron and Mollie Cooke purchased their 1918 bungalow in the Elizabeth neighborhood, the termite damage on the porch was one of many challenges. They weren't deterred. They completed their renovation in nine months, including this stylish front porch framed by white beams, columns, and rails.
Photo by Logan Cyrus