5 Tasty Christmas Treats Found Throughout Charlotte: 2019
From macarons to 'Yule Logs'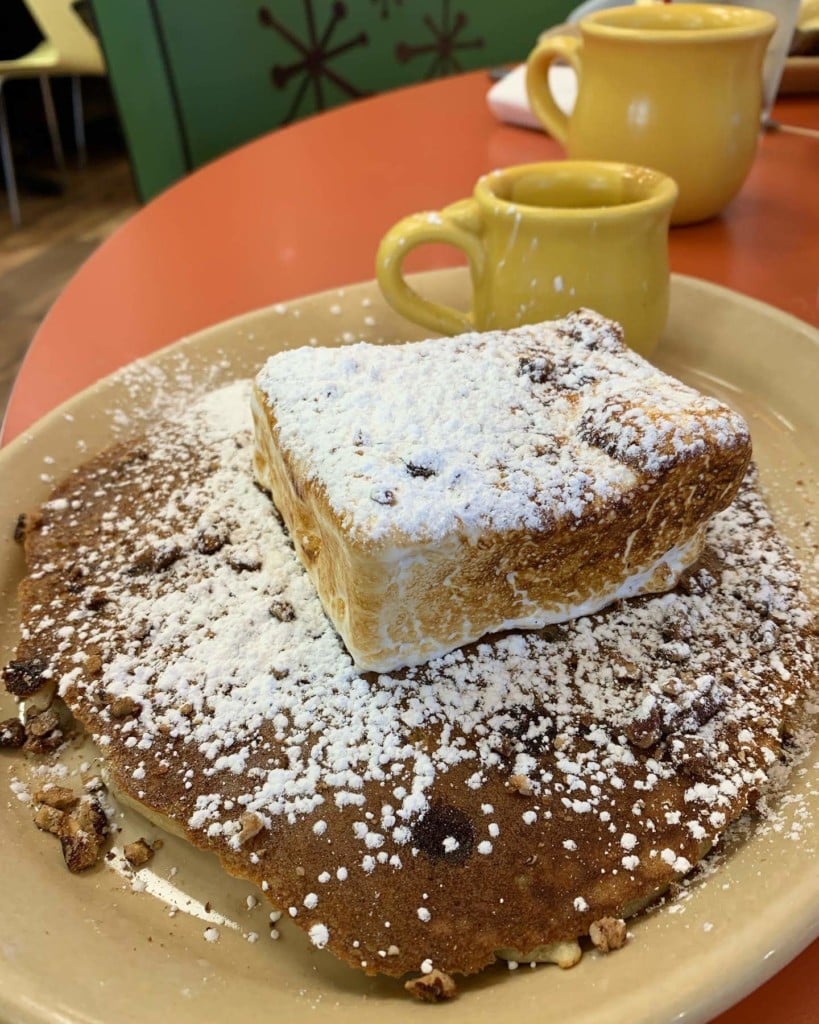 IT'S TIME for tasty treats clad in red, white, and green. Below, we have a roundup of a few of our favorites:
---
Amélie's French Bakery & Café's White Chocolate + Cranberry French Macarons
Several locations
There's an urgency to enjoying the seasonal macarons at Amélie's, which are often available in the ominous time frame of "while they last." These red-and-white little numbers are the kind of thing you find at a Christmas party and slip into your coat pocket.
---
Snooze's Nana's Hot Cocoa Pancake (top of page)
Plaza Midwood
Sure, this one is an entree, but it tastes like a treat: a buttermilk pancake loaded with white chocolate chips, with an enormous marshmallow on top of it with candied pecans. And don't forget the syrup: Mexican hot chocolate.
---
Suárez Bakery's Yule Logs
Park Road Shopping Center
No, the celebrated bakery hasn't gotten into the timber game: "Yule Logs" here are "chocolate roulade cakes rolled with chocolate mousse, iced with chocolate fudge, and dusted with powdered sugar." You have to order these on their site, linked above.
---
20 Degrees Chocolates' Egg Nog and Peppermint Mocha Flavors
Myers Park and South End
20 Degrees just got its first brick-and-mortar, with seasonal treats in tow. They have plenty of rotating chocolates currently worth your attention, but we found the Egg Nog and Peppermint Mocha flavors to be particularly festive.
---
Reigning Doughnuts' Gingerbread House
NoDa
This doughnut isn't the cleanest of the bunch, so get your pic for the 'Gram before digging in. This one is available just for the next two weeks. After Dec. 22, they have Candy Cane Oreo until Jan. 5, followed by stens for Russian Tea, Grasshopper, and Bailey's Hot Chocolate flavors.