5 Things To Know About ONCE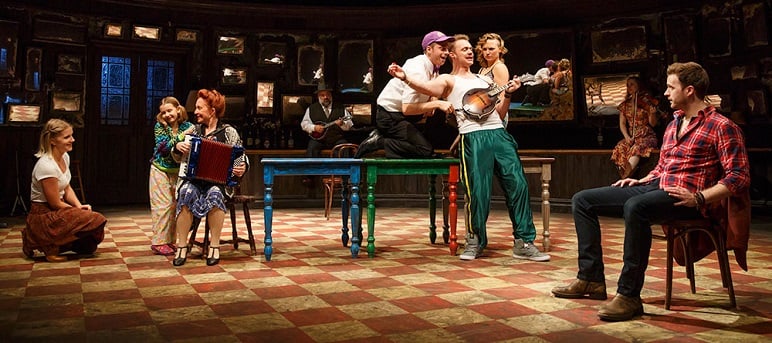 1. It's funnier than you'd think it'd be. The original film, starring Glen Hansard and Markéta Irglová, has its comedic moments, but this is a musical, which means that there's a certain amount of heightening. The part of "Guy" is even bleaker, and he sounds like he's on the verge of crying in just about every scene. The Czech female lead "Girl" brings more of a comedic presence than her film counterpart, playing up the accent and her brash nature. The company, consisting of mostly new characters, adds more humor and fills out the tunes in a way that makes sense for this format. The film version of Once is sparse and subtle, but this is a musical. You have to wow the crowd, and this show certainly does that.
2. But the songs you want to hear are in there. Much of the success of the original film is due to the soundtrack, primarily written by Hansard and Irglová. The fun is seeing how the tunes are framed for the stage. You can't walk into the theater and expect to see a direct translation of the movie. Once you put those notions aside, and get used to the heavy doses of humor and drama, you can enjoy the songs even more.
3. The music starts before you walk into the theater. Once sets the tone early, with the production's company jamming on classic Irish tunes under the house lights. You're even invited onstage to clap along before the lights dim, and the actors take their places. Even during the set changes, there are few moments in which someone's not playing one of the show's 30 featured instruments. But don't expect a pit orchestra to be churning out the sound.
4. The actors are the ones playing the instruments, and all of it's done live. Sure, it makes sense for the lead parts of "Guy" and "Girl" to play their respective guitar and piano themselves, but the company itself is responsible for the other instruments. Each adult member of the cast sings and plays multiple instruments, while dancing, running across the stage, or taking part in set changes. It adds to the show's kinetic atmosphere, and far more tightly rehearsed than its pub backdrop would suggest.
5. Speaking of the pub: It's a real thing. Before the show and during the intermission, folks can feel free to go up on the stage and order some drinks. You do have to pay for the beverages, but it's not very common to have this kind of interaction with the set of a musical. If you walk up during the pre-show festivities, you get to stand feet from the cast as they trade off parts. Just don't touch them; that's against the rules. That should go without saying, but you never know.