5 Tips for Kid-Friendly Home Design
Kids: They're great and all, but they're also messy little things.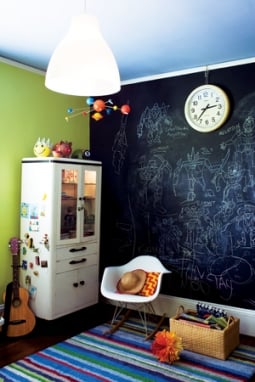 Kids can bring insurmountable joy to your family. From the moment your little one is born, you can't help but marvel at the fact that you created this tiny human. You fall in love with him in a second's time, and you wonder how any child could ever be more perfect than yours.
And then he grew up. First the terrible two's, then the bug-catching fives, and then the rambunctious sevens. Your angel is more like a threat to your home at this point, and you are starting to re-think that glass coffee table in the center of the living room.
If kids are part of your home equation, you should design your home accordingly. There are plenty of family-friendly design and décor tweaks that will fortify your home to survive the hurricanes known as children. Don't worry, it won't look like a plastic-chaired daycare center—these tweaks are chic.
Examine your family's lifestyle
Are the kids always on the go, or are they having friends over at every chance they get? Do your children feel the need to play football inside the house? Is your spouse always snacking on sofa-staining morsels? Realistically examine just how your family lives so that you can decorate accordingly. It'd be a shame to buy a white couch only to have a chocolate milkshake do some tie-dye action.
Give the kids some space
If you want the kids to keep their time in the dining room (where the china plates are stored) to a minimum, give them a place to call their own. A playroom is a common solution for this situation. Kids are undoubtedly messy, and if you want the mess to be contained, you've got to give them an area in which to contain the mess. Furnish according to your kids' interests, like a nook for the avid reader or a large playmat for the lego builder.
Don't be afraid to make it stylish
When thinking about making your home kid-friendly, you might assume that, in order to do so, your home can't look nice. You might even hold off on decorating until your baby grows up. Don't let your home suffer! You can easily make a kid-friendly home stylish as long as you pay attention to furniture materials and colors. The key is to find a home design that meshes well with your lifestyle (because you've already established what that lifestyle is, right?). Just choose a low-maintenance version of your ideal home. If you want contemporary, find pieces with rounded edges that are easy to clean. If you want boho, don't let drapes sweep the floor, as your kids will yank the fabric. Keeping little things like this in mind make it possible to have a stylish home that's still kid-friendly.
Know your materials
Choosing the right fabrics and materials are perhaps the most important part about kid-proof home design. For the walls, you'll need a wipeable paint that will withstand the unavoidable scuffs and messy hands. Satin, semi-gloss, and eggshell types are all great choices. In the playroom, consider painting one wall with chalkboard paint so your kids can have a little fun with the walls! As for furniture fabrics, you want high durability and low maintenance. Such fabrics include ultra-suede, denim, twill, velvet, vinyl, pleather, and other fabrics that have synthetic fiber added in for extra strength.
Color is your friend
Once you know what fabrics to keep an eye out for when furnishing a kid-friendly home, you should then take into consideration the color palette you've chosen. Lighter hues are obviously much more prone to showing the slightest discoloration caused by sticky fingers or little spills. If you want some help disguising mishaps between cleans, patterned fabrics are fabulous. Not only do they add personality to a room, but they are masters of disguise that even the dirtiest of hands can't shake.