5 Tips for Making Your Home "Homey"
Without sacrificing style.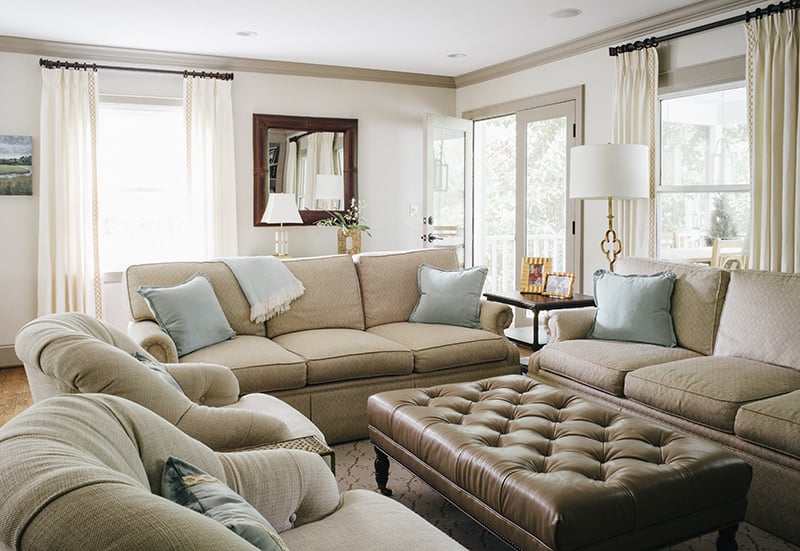 No matter the style of your home, every house, apartment, or condo can benefit from feeling just a bit more inviting. Especially if your space is shining with contemporary elements from floor to ceiling, "homeyness" is usually a far-away thought. Even more, you may shudder at the idea of your home being described as "homey."
Well, leave that stigma behind.
Any space can ooze homeyness while remaining chic; it's just a matter of how you choose to make your space more inviting. Try some of the below examples to make guests feel more at home in your home—without sacrificing aesthetic.
Enhance the Entryway
A surefire way to influence guests' first feelings when they enter your home is to pay big attention to the entryway. Is it dark? It it empty? If so, your home could come off very uninviting. Make sure your entryway gives guests a warm welcome—placing a plant there will give people an eyeful of vibrant life as soon as they walk in.
Say hello to soft textiles
Fuzzy blankets, velvet pillows, and touchable rugs are key to bringing coziness to your home. Having a surplus of soft materials makes people feel more comfortable and welcome. Don't be surprised if they try to stay for a nap! Take it as a compliment.
Use color and design to draw eyes through the space
You never want rooms in your home to feel blocked off. Good Feng Shui invites guests to unknowingly continue walking through your home. To achieve this, take special note of what your guest's point of view is. Then, pepper that view with interesting and enticing details that make the whole space flow together. Something like a bold accent wall at the end of a walkway or visible art across the house can easily prompt a house tour.
Make furniture easy
One of the most important aspects of your home is its comfort level. Specifically speaking, your seating area(s). Make access to your seating as easy and natural as possible—nobody likes feeling like they are unwelcome on a pristine couch. Create an intuitive flow to help guide guests to comfortable seating options; think about walkways and spacing.
It's all about the details
Lastly, give your space some personality. If your home feels too much like a catalog, guests won't feel like they can hang around. Giving some pieces of furniture a little extra flair and incorporating small but noticeable details that are unique to you will help transform your house into a home. People want to feel like they're in your house, not a showroom floor full of generic items. Try reupholstering a chair, DIYing accent art, or hanging personalized utensils on the wall.