5 Tips for Using Herbs in Summer Cocktails
Mint, rosemary, and basil are all natural fits with summer sips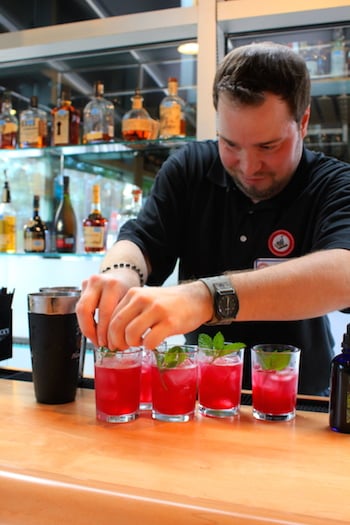 Kyle Crabtree, mixologist at Block & Grinder on Providence Road, gives us five simple tips for using our backyard herbs in summer cocktails.
1. Do your research. Crabtree often begins brainstorming ideas for new drinks by visiting Liqurious. The website offers hundreds of drink concoctions with photos of each one. You can also search specific drinks or ingredients. A simple search for "mint" turns up tempting blueberry mint daiquiris, bourbon iced tea with mint, and numerous mint juleps.
2. Muddle properly. Start with a nice, flat muddler to press the herbs and extract the flavor. The herbs need a medium to leach into, Crabtree says, such as a simple syrup. Press side to side as you muddle, but make sure not to rip the herbs. The more the herbs tear, the lower the quality of the cocktail.
3. Make your own syrup. Simple syrup is made by combining equal parts sugar and water. You can then build upon this base recipe by infusing it with herbs of your choice and experimenting with different sweeteners, such as honey. "Syrups are something we use a lot here," Crabtree says, "and they are a lot of fun." Syrups can be made ahead of time and stored in the refrigerator. They're great for a party because you can put them in a squeeze-top bottle, place it in a bucket of ice, and have it ready to mix drinks out by the grill or the pool.
4. Adjust to your taste. Once Crabtree develops a new cocktail, he often continues to tweak it. Block & Grinder's rosemary Paloma (tequila, grapefruit, and citrus) started as a thyme Paloma. "The flavors weren't assertive enough," Crabtree says. "Rosemary is more aggressive."
5. Combine classic flavors. Even though the gin basil smash on Crabtree's menu is listed as a "nouveau cocktail," he says the lemon-and-basil concoction is becoming an instant classic. Take advantage of fresh summer fruits and vegetables, such as peaches, blackberries, and cucumbers. If the flavors taste good together on a plate or in a salad, try combining them in a glass.