5 Unfollowable Charlotte VIPs
Not because of too many tweets but a lack thereof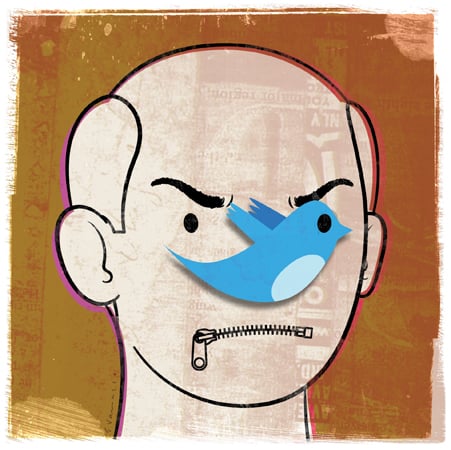 Think every celebrity is on Twitter? We found five unfollowable Charlotte stalwarts who maintain their social-media silence in a share-everything world. #FTW!
Jerry Richardson, Carolina Panthers Owner
The idea of media recluse Jerry Richardson on Twitter was so preposterous to him that, during a rare one-on-one interview with Fox Charlotte's Morgan Fogarty earlier this year, he erupted into boyish laughter when she asked him if he might someday join. His monotone Southern drawl went up an octave or two and he tittered for a bit, unable to return to consistent normalcy for the rest of the interview. He giggled his way through a follow-up question, with a genuine smile that pulled his whole face upward.
Brian Moynihan, Bank of America CEO
When the head of Charlotte's largest homegrown bank speaks, the markets listen. So it's probably a good idea, really, that the markets don't have to listen to 140-character bons mots on last night's Celtics game. Moynihan heads a company that is a bit prickly when it comes to bad PR (BofA bought a host of web domain names, like brianmoynihansucks.com, late last year), and there's a precedent for his social-media silence: forebear Ken Lewis didn't tweet either. Besides, you don't want WikiLeaks to have easy access to any Twitpics from Moynihan's Brown University days.
Rev. Billy Graham
Justin Bieber has 11 million Twitter followers. Billy Graham has no Twitter account. But the Park Road–reared reverend has counseled presidents, visited six continents, led live crusades in front of millions, and is estimated to have reached an audience of 2 billion people during his lifetime. Graham's son Franklin does believe in the power of social media, though, telling ABC's Christiane Amanpour in April that Twitter could help spread the word when Jesus Christ returns for his second coming. Now that would be a trending topic.
Price's Chicken Coop
The essential Charlotte lunch spot doesn't take credit cards, doesn't have seats inside, and it doesn't do status updates. Price's, which opened as a chicken market in 1948, also sports a home page that's web 1.0, but that's beside the point. South End's fried chicken mecca sports low prices and gizzards and hush puppies and, OK, please, just put away your damn smartphone and go there before it closes at 6.
Metalmorphosis, Public Art
The Firebird (@discochickenCLT) has one. The guy directing traffic at Queens and Queens has one (@HughCLT). Even the pillar at Trade and Tryon with Alan Greenspan's face on it has one (@CommerceCLT). But alas, pseudotwitterers, you couldn't come up with an account (by press time) for a fourteen-ton shimmering stainless steel head that rotates and drools? Like many Charlotteans, Metalmorphosis's lot in life is to spend its productive time hidden away in a suburban office park (this one off Arco Corporate Drive off the I-485 Arrowood exit). This guy has to have some rage to let out, even if his mouth is full of water.