5 Ways to Celebrate National French Fry Day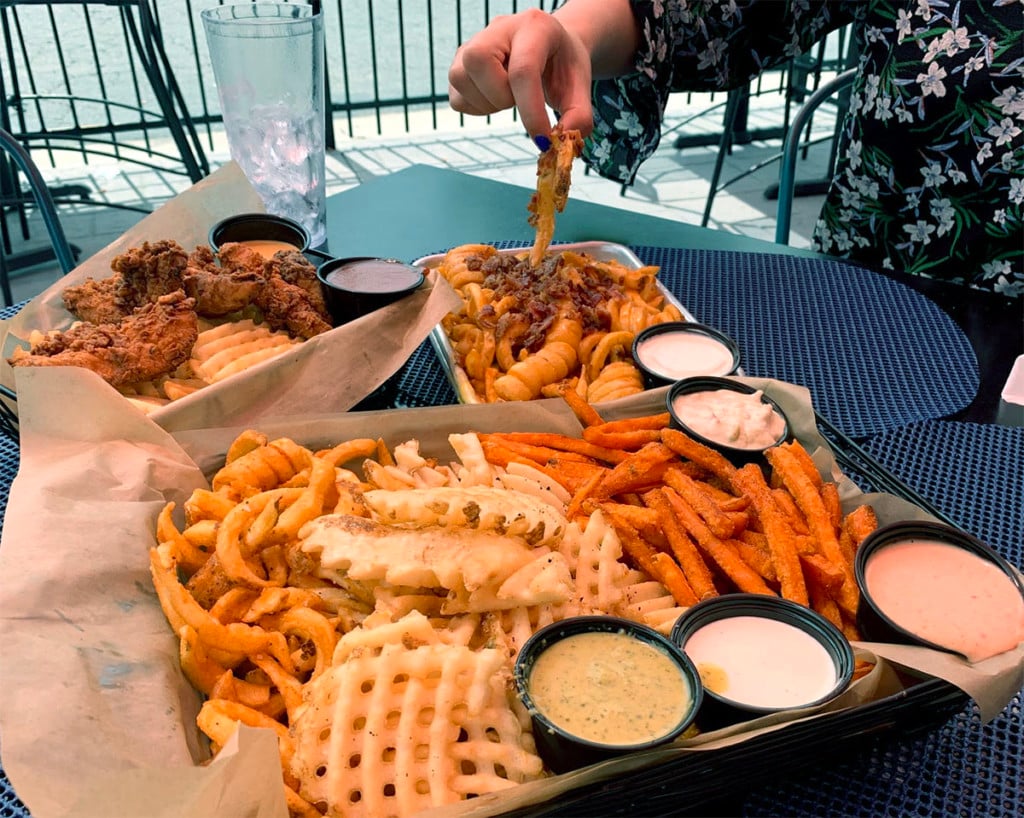 ENTREES AREN'T the only ones who get holidays. French fries are being honored nationally on Saturday (July 12), so we're giving you five ways to mark this hallowed day.
---
FRIES on FRIES on FRIES at Rosemont. "Comfort food" is what this South End spot is known for. Its FRIES FRIES FRIES (its capitalization, not mine) offers the ultimate fry sampler platter for those who can't choose between waffle, curly, or sweet potato fries: This appetizer has all three. 1714 South Blvd.
Dips Galore at 8.2.0 Pizzeria & Bar. 8.2.0 already distinguishes itself with its twice-cooked, Belgian-style fries. Then it went ahead and added a total of 17 possible dips to the menu. The list includes malt vinegar aioli, lemon horseradish aioli, buffalo blue cheese, garlic parm buffalo, white 'Bama BBQ, PB&J, ranch, Tzatziki, Mexican ketchup, red chimichurri, s'mores, spicy hot honey, mango chutney, traditional red sauce, Dixie Gold BBQ, teriyaki, and tomato vodka cream sauce. Memorize this list and rattle it off like Good Will Hunting's fake brothers while you're dining. 820 Hamilton St.
Find the What the Fries Food Truck. Guess what this food truck specializes in? Track down this side-slingin' vessel on Saturday and order the Steak & Shrimp Hibachi loaded fries. It comes with steak, shrimp, bok choy, carrots, "Yumm Yumm sauce," and scallions.
Garbage Fries at Stoke Charlotte. Like its "Garbage Doughnut," Stoke's other dish with this descriptor doesn't actually taste like garbage. This is one of its brunch sides offered daily, and these crunchy fries are packed with gravy and melted pimento cheese, aleppo, and scallions. 100 W Trade St.
Pesto Brie Fries at Crêpe Cellar. You may also be looking for something that tastes a bit different to celebrate: We'd suggest Crêpe Cellar's pesto brie fries, which is the kind of thing you'll want to try at home. (Though most of us will return after failing to replicate their greatness.) 3116 N Davidson St.