505E Restaurant and Lounge Makes a Go at It in First Ward
New nightspot has opened in the space formerly occupied by Kalu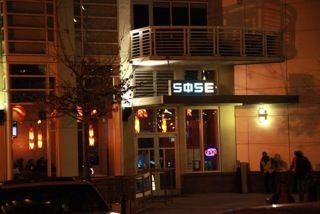 505E Restaurant and Lounge opened about a month ago, just in time to allow the space to be rented out for parties for several days while the CIAA Tournament was taking place. Over the next couple of weeks, the upscale restaurant and lounge went rather quietly about its business until it held its grand opening last weekend.
There's a new sign up, with 505E emblazoned, on the Courtside condo tower, where the restaurant and lounge occupies two floors. You're likely familiar with this space—up until February it was Kalu Asian Kitchen. Kalu was a promising restaurant when it opened in 2010, receiving a favorable review in Charlotte magazine and that year was named one of Esquire's Best New Restaurants in the country.
But problems soon ensued at Kalu. The prominent chef left, the menu underwent multiple changes, and there was frequent turnover with the wait staff, all leading to negative reviews and complaints on restaurant sites like Yelp and on social media. By 2012, Kalu had become more of a party spot than a place to dine. It always had that nightlife appeal, with three bars—two on the first floor and one on the second—spacious lounges, beautiful décor, great artwork, trendy furniture, and intimate lighting. I frequently complimented it as one of the best looking interiors in Charlotte.
So the new owners/management that have turned the two-level, 7,000-square-foot space into 505E (name is derived from its address), actually left most of the furniture and décor intact. They've turned the upstairs bar into a hookah lounge, which was a great move considering how popular hookah has become. They've also put together a pretty good-looking drink menu.
The plan is to feature live bands and DJs select nights of the week, and it's open daily, 4 p.m. to 2 a.m. This will allow them to go after both the after-work and late-night crowd.
But they're also attempting to draw in the dinner crowd, which is an entirely different challenge. So far, I've heard good things about the food. And according to 505E's website, they plan to begin offering lunch soon. But if you ask me, they'll face the same challenges as Kalu in drawing a daily dining crowd to this part of Uptown. It's off the beaten path, in an era where Charlotteans have become accustomed to stroll districts. Ultimately, I believe nightlife will be 505E's bread and butter if it's going to succeed.
505E Restaurant and Lounge, 505 E. Sixth St., 704-817-9374, the505e.com.

Be sure to bookmark www.charlottemagazine.com/Blogs/Dusk-Till-Dawn to stay plugged into Charlotte nightlife. Follow me on Twitter @HollidayInk; email me at jarvish@grownpeopletalking.com.