5Church: Exploring the New Lunch Menu
The trendy uptown eatery unveils several new dishes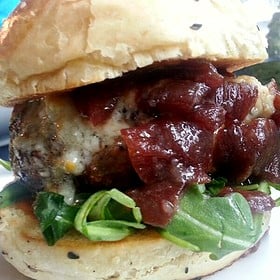 This week, 5Church launched a new lunch menu designed by Executive Chef Jamie Lynch. The new offerings include a French Onion Roast Beef Sandwich, Honey Mustard Chicken Wrap, as well as the signature Lamb Burger, among numerous other heartier options. Entrée dishes like the Chicken Cordon Bleu, Mussels and Fries or the Prime Bistro Steak are available for the hungrier of the lunchtime crowd, and an array of new salads and light bites are also available. Lunch will be served Monday-Friday from 11am-3pm.
Naturally, I had to give the new menu a taste. First up, I tried the Italian hoagie – a newbie for 5Church. The chewy bread, addition of ALWAYS NECESSARY oil and vinegar, and trio of meats made for a very yummy sandwich. Second on the list was the long-standing lamb burger, which has been on 5Church's menu, well, forever. The burger itself was medium rare, juicy, and well-complemented with gorgonzola fondue and red onion marmalade.
Delving into the lunch entrées, my companion and I ordered both the chef's daily pasta and the chicken cordon bleu. The pasta (which, unfortunately, is daily and I have no idea when this particular rendition will be available again) was a combination of angel hair and squares of fresh mozzarella snug in a pepper, cheese, and cream sauce. So simple, yet so delicious. The chicken was presented with a thin piece of capicola, slender pieces of asparagus, and a melted slice of provolone over top — all on top of buttery mashed potatoes and with a drizzle of lemon caper sauce over top. Although I've come to expect a plump, stuffed chicken breast when I hear cordon bleu, the lighter 5Church version was a well-designed portion for lunch.
The new menu is sure to be a hit with uptown diners searching for a quick but filling lunch. Check out the full lunch menu on 5Church's website!