5Church Heads South
The uptown eatery will open a new location in Charleston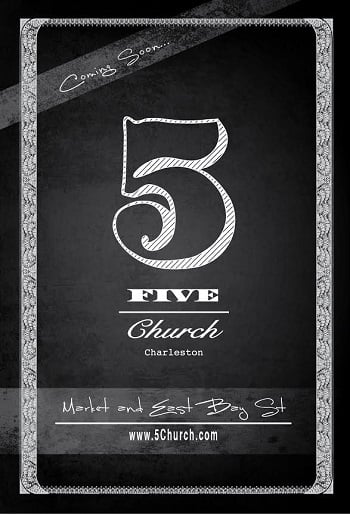 It isn't too hard to want to daydream about warmer months, temperatures in the 80s, and lots of porch dining these days. Although also caught in this icy polar grip, Charleston, SC, will have a new addition for those of us venturing to the historic southern city come the warmer months.
If you haven't heard the news, Charlotte's MAP Management – led by Patrick Whalen, Ayman Kamel, Mills Howell, and Alejandro Torio; owners and operators of 5Church and Nan & Byron's – will be opening 5Church Charleston sometime early next summer. The group recently secured the lease for 5Church Charleston at 32b North Market Street at the corner of Market and East Bay Street in Charleston's downtown historic district.
Obviously, this is big news. Torio has been in Charleston the past several weeks (according to Instagram), likely surveying the scene, networking, and spreading the word about MAP's newest addition. The original Charlotte 5Church has received an impressive number of local and national awards since its opening in May of 2012. Most notably, it was named a "Top 100 Dining Hot Spot in America 2014" by Open Table.
If you weren't aware (or hiding under a rock), 5Church is a new American restaurant located in uptown Charlotte at the southeast corner of North Church Street and 5th Street (hence the name). The modern venue was designed to foster an enjoyable dining experience amidst a sophisticated, artistic environment – as evidenced by everyone's favorite buffalo painting gracing the wall as well as the entire script of The Art of War painted on the ceiling. Its seasonal menu blends traditional and contemporary cuisine while sourcing local ingredients. The executive chef and partner, Jamie Lynch, was voted "Best Chef" in 2013 and 2014 by Charlotte Magazine. Additionally, 5Church Charlotte's bar features 130 wines selected by its level two sommelier, along with craft and bottled beer and a large cocktail list created by the in-house mixologist team. Hopefully, 5Church Charleston will offer all the trappings of our beloved original and more – crafted for the classy southern city, of course.