7 S.C. State Parks & Trails for All Types: Glampers, Mountain Bikers, Dog Lovers & More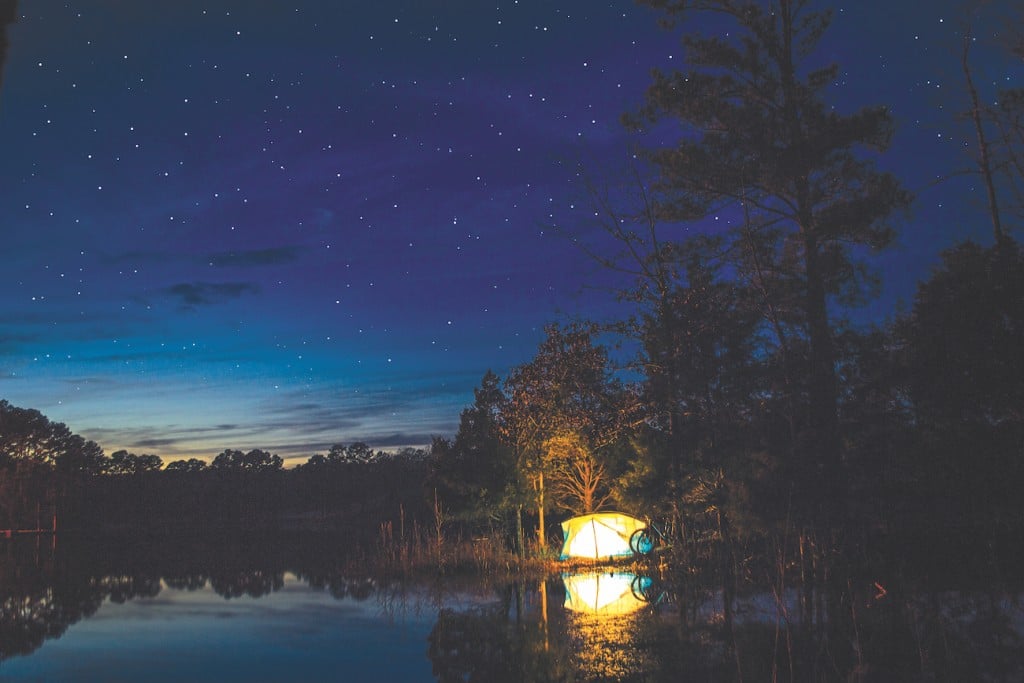 As the weather starts cooling down and we reach peak hiking season (no pun intended), it can be tough to find a destination drivable from Charlotte that's new to you. Deciding on a weekend destination can be even more challenging if you're seeking fresh air as a family or friend group this fall and you need one location to supply various adventure options for everyone.
For some, enjoying autumn weather is simply sleeping beneath the trees in a lush national park. For others, it means ideal conditions for heart-pumping adventures such as mountain biking. Some people like the idea of the outdoors but prefer glamping amenities.
Whether you prefer trekking up a rocky mountainside, gliding through glossy water, or simply camping among colorful leaves, the Old 96 District in South Carolina checks each of these boxes.
With six state parks, more than 250 miles of hiking and biking trails, and in excess of 100,000 acres of water across the five-county region, this charming South Carolina district offers some of the most refreshing outdoor experiences for Charlotteans heading to the mountains for a weekend.
Old 96's Best Trails & State Parks for…
… Camping Views
Calhoun Falls State Park (pictured above)
Take "I woke up like this" to a new level and greet the new day by waking up to a view of Lake Russell. At Calhoun Falls, most of the campsites enjoy forested shoreline tent views.
… Glamping
Hickory Knob State Resort Park
There's no shame in the glamping game. For an outdoor getaway without the hassle of a tent, Hickory Knob State Resort Park is the only resort State Park in South Carolina, offering various amenities such as group cabins and even hotel-like suites on a poolside. Enjoy the comforts of home while still spending time in nature here.
… Leisure Lovers
Lake Rabon Park
Leisure enthusiasts looking for an easy trek should look no further than Lake Rabon Park. A beautiful, round trip 2.5-mile trail features a picnic shelter and a grassy area by the lake for lunch al fresco. After your picnic, cast your rod at the fishing pier or launch a kayak from the boat ramp for a day full of relaxation in nature.
… Newbie Hikers
Beaver Run Trail-Hickory Knob State Resort Park
For those just dipping their toes, the Beaver Run Trail at Hickory Knob State Park is the perfect starter trail. Heading down to the edge of Lake Thurmond, then entering a floodplain forest, the 2.5-mile trail is long enough to feel accomplished, but not too long for a beginner to take on. Enjoy looking at all the local varieties of plant life along the way.
… Endurance Training
Forks Area Trail System (FATS)
Making it easy to build your hiking chops without having to find multiple different trails, FATS features multiple loops that total 34 miles of moderate-intensity terrain. Each loop is a different length, ranging from four to nearly seven miles. Hikers are able to choose which loops they feel most equipped for and add distance as their endurance grows.
… Dog Lovers
Parson's Mountain Recreation Area
While many of Old 96 District's trails allow pets, not all of the trails have an 800-foot summit and a loop around Parson's Mountain Lake. This four-mile loop is considerate moderate—for a tougher hike, take the branch of the trail passing by Civil War-era gold mines as you summit. Your four-legged friend will love all the flora along this route, making for a happy hiking partner (and great photo opportunity).
… Biking Views
Lakeview Trail at Hickory Knob State Resort Park
This difficult 6.7-mile trail is optimized for mountain bikes, but for those who are up to the challenge, the reward is worth it! Experience panoramic views of Lake Thurmond from the top as you cool off and prepare for the descent.
Ready to book your outdoorsy getaway? Click here for more information on Old 96 District campgrounds and state parks.