7 Tasty Charlotte Dishes Using Pork or Chicken Skins
The roundup only our editor asked for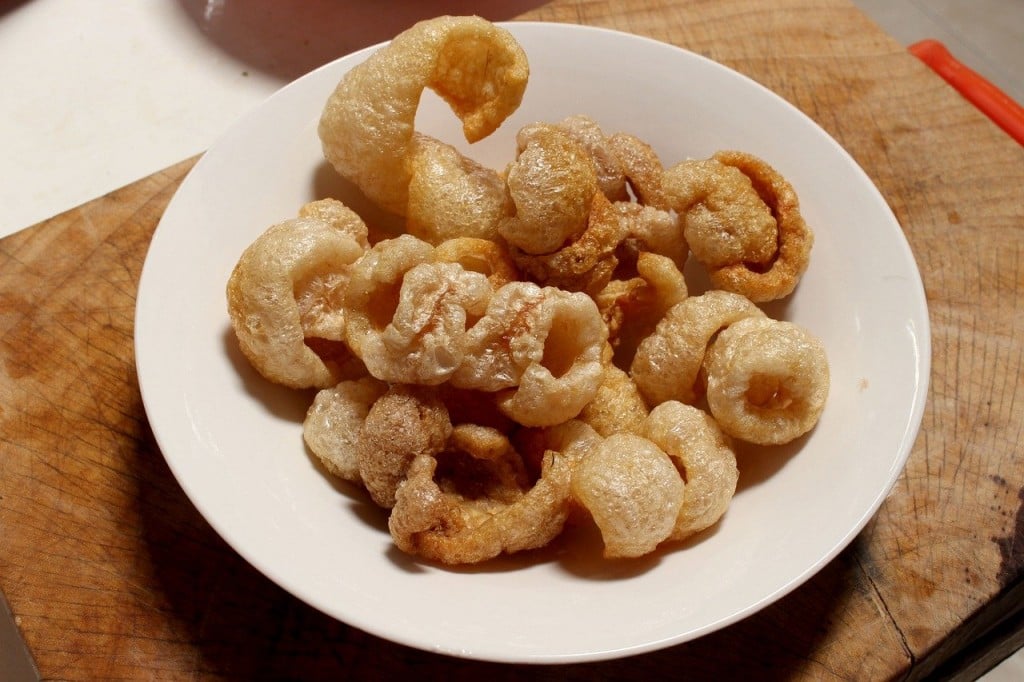 ON OUR RECENT LIST OF 25 Must-Try Takeout Spots in Charlotte, we noted that two of the dishes used pork rinds in wildly different ways. Believe it or not, I showed restraint in only including two, because pork (and chicken) skins are a secret ingredient in several appetizers and entrees across the Charlotte area. This isn't a highly requested food roundup, like our cheesesteak and chicken sandwich lists, but I'm sure you'll find something to love below. (Unless meat is something you generally avoid.) 
River Chips at Leah & Louise
301 Camp Rd.
Esquire recently named this Camp North End spot as one of the Best New Restaurants in America, and they're on our list, too. The River Chips here are chicken skins made "Voodoo Chip Style" with granch, which is a combination of ranch and green onion sauce.

Boat Noodles at Deejai NoDa
3629-103 N. Davidson St., 980-859-3701
This Thai spot's Boat Noodles soup includes pork rinds alongside slices of beef, slow-cooked steak, meatballs, herbs, and sprouts. The murky result isn't the most photogenic item on this list, but it's among the tastiest.
Pork Rinds at Sweet Lew's BBQ
923 Belmont Ave.
Sweet Lew's takes the skin from slow-cooked pork shoulders, chills it, and then fries them into a crisp with crunchy and chewy results. Like much of the menu here, it's a step above a version you'd find elsewhere in town.   
Yuca con Chicharrón at Lempira Restaurant
Multiple locations
Among the Honduran dishes found here, you can order tasty pork skins with fried yucca. It comes with cabbage salad, cheese, and salsa. Pork skins also come with the Honduran Dish, which adds grilled meat and an empanada to the mix.

Dirty South Nachos at Soul Gastrolounge
1500 B. Central Ave.
Soul knows how to do small plates with a big punch.These nacho "chips" are fried chicken skins, and they come with pimiento cheese fondue and jalapeno pickled okra. 
Smokey Mac & Cheese at Haberdish
3106 N. Davidson St.
The mac and cheese is tasty enough, with creamy mornay cheese sauce and smoked cheddar and Monterey Jack cheese. Add spicy, crispy chicken skins for a couple more bucks to make it a side that nearly eclipses any entree you're going to get.

Chicharrones & Queso at The Roasting Company
Multiple locations
The Roasting Company's seasoned pork rinds are an ideal appetizer, especially with the restaurant's decadent queso for dipping. There's also a pork rinds appetizer that comes with guacamole, and you really can't go wrong with either scenario.