7th Street Public Market To Hold Grand Opening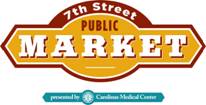 7th Street Public Market, the new "city market" located uptown in the former Reid's space on, yes, Seventh Street, is ready for its coming out party. The market has been undergoing a soft opening since the fall, while it tweaks its operation. The crops aren't quite in yet, but the market officially opens to the public Mother's Day weekend, with the festivities continuing into next week. But don't expect to see a finished product. Sources tell us this market will continue to evolve over the next year, as it responds to customers, adds dining options, and fleshes out the farm stand.
Taken from the press release, here is the schedule of events for the grand opening:
THURSDAY, May 10th
Chow Down Uptown: After work Food Truck Rally in the Levine parking lot across from the market. This event will feature 12 food trucks with seating, beverage and additional food available at the market. Music will be provided by a local busking group.
FRIDAY, May 11th
Lunch in the Market: Lunchtime chef demonstration followed by music and entertainment.
Market after Five: Happy hour activities at the market including fresh food, beer, wine and great music.
SATURDAY, May 12th
Grand Opening Day: Festive event featuring a variety of activities throughout the day including Green Market Saturday (enhanced market vendors), cooking demonstrations in the demo kitchen, Farmer meet & greet at the Farm Stand, fresh food from Pure Pizza, Fran's Filling Station, and others (TBA), entertainment provided by a variety of buskers, contest and giveaways.
SUNDAY, May 13th
Gospel Brunch: Special event featuring spiritual and gospel music designed to encourage local Uptown churches to experience the market.
MONDAY May 14th- WEDNESDAY, May 16th
Lunch in the Market: Lunchtime chef demonstration followed by music and entertainment.
THURSDAY, May 17th
Top Chef Touring Show: National touring show featuring contestants from the BRAVO network's Top Chef. (Adance tickets required.)
For more information, check the market's Facebook page.