@7th's Quiet Transformation
Redesigned menu still highlights Italian classics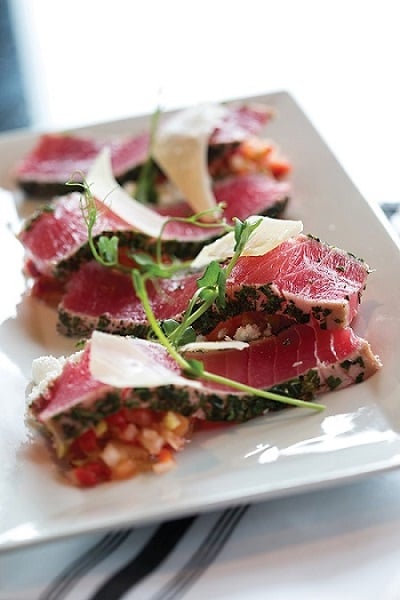 IT WAS EASY to miss the changes inside the small, Italian restaurant on the corner.
The groundbreaking for First Ward's long-delayed public park, diagonally across East 7th Street, came at roughly the same time that Elizabeth and Howie Barber, along with two other partners, bought what was known as Villa Francesca at the corner of 7th and Caldwell streets uptown. The restaurant's transformation to @7th came without the television cameras and bulldozers that accompanied the project across the street. With the park—and the customers its completion is expected to bring—not yet there, @7th has time to remain a work in progress.
The Barbers stripped the inside of the restaurant, redecorating in an industrial chic design with lots of black and white. Chandeliers hang from exposed beams; the floor is a smooth, glossy concrete.
Villa Francesca was a no-frills Italian eatery, known for solid pizzas and classic pastas. When @7th opened in November, new chef George Kovach kept the pizzas, including some that are available for carry-out, and added small flatbreads ($10) appropriate for sharing as an appetizer. The prosciutto and portabella flatbread arrives crispy but not burnt, topped with generous portions of mushrooms and meat.
The polpette ($8), a pork and veal meatball, is about the size of a baseball and is topped with an outstanding house-made marinara sauce that highlights the sweetness of the tomatoes. It is light (too-dense meatballs are the worst), and, if cooked just right, moist all the way through.
The standout is Kovach's beef short rib ($21). It is rich and tender with a hint of red wine braising liquid that seeps into garlicky mashed potatoes below. The care that goes into making this dish highlights the potential of the small, corner restaurant.Our server, who is attentive without being overbearing, suggests the carbonara ($15) for the pasta course, with linguine from Pasta & Provisions. The sauce is as eggy and cheesy as expected, though the pasta isn't quite as delicate as the silky sauce requires. The dish is studded with pancetta—the salty Italian bacon—diced into substantial cubes and rendered until crispy.
If First Ward is on track to become the next place to be seen in uptown, as its boosters say it will, @7th will be right at the center of it all—two blocks from the park, down the road from the light-rail extension, near still-to-come shops and apartments. That transformation will take months, though, and that gives @7th plenty of time to become the comfortable neighborhood staple it aspires to be.