A 2019 Charlotte Election Preview
This year's winners will grapple with these issues long after the polls close November 5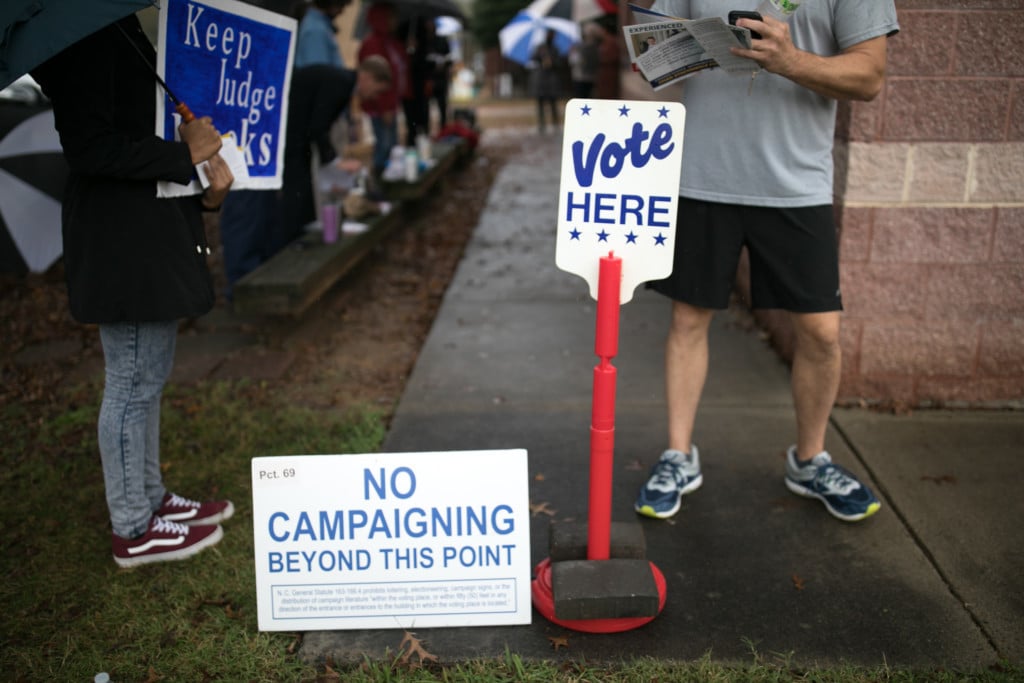 IT CAN BE HARD to get excited about off-year elections—which North Carolina reserves for municipal and at-large school board races and maybe the occasional local referendum—with no national presidential or midterm elections to goose voters to booths. This year, the mayoral, City Council, Board of Education, and sales tax referendum results might not matter as much as the bigger challenges the winners will have to wrestle with, just as their predecessors did. How they do it can help us gauge what's at play, and at stake, in 2020 and beyond.
The City: RNC Fallout
Let's get the basics out of the way. Mayor Vi Lyles will be reelected. The City Council almost certainly will retain its 9-2 Democratic majority. There's even an outside chance for 9-2 to become 10-1—Gina Navarrete, a neuropsychologist and Latina immigrant, is expected to field a respectable challenge in November to first-term Republican incumbent Tariq Bokhari in District 6.
Yet something big and ominous hangs over this particular mayor and council: Its 6-5 decision last year to accept the 2020 Republican National Convention. Democrats cast four of the "yes" votes: James Mitchell, Greg Phipps, Larken Egleston, and Mayor Pro Tem Julie Eiselt.
Lyles and a majority of the council members were elected on promises to address chronic problems with economic mobility, affordable housing, job creation, and other issues that affect poor and racial minority residents—which they have, but with slow and mixed results. The RNC vote seemed to undercut those promises, and some voters saw it as a kind of betrayal.
"I voted for you members of City Council because you campaigned on promises that focused on fixing these factors," resident Diana Levitt told council members during a meeting in July. "Yet when it came time to stand up against the hate, you chose financial opportunity."
The risk to the City Council isn't that Democrats will lose power. It's that citizens will lose confidence that the city government serves their, rather than corporate, interests—and the indifference could cripple the city's efforts to solve any problem, large or small.
CMS: Coping With Churn
Public school superintendents usually don't last long. A typical one has been on the job for three to four years, according to a Brookings Institution study. Even by that standard, Clayton Wilcox was a short-timer as CMS superintendent, lasting less than three years before his dismissal in July.
We'll see if his replacement, Earnest Winston, fares better. In the meantime, the churn has spread to the school board. This year, 13 candidates are running for three at-large seats—two of them vacated by their incumbents, Board Chair Mary McCray and Ericka Ellis-Stewart, who decided not to seek reelection. (Vice Chair Elyse Dashew is the only at-large incumbent in the race; the nine-member board's six district representatives will be up for reelection in 2021.)
It's reasonable to ask how much difference the election or replacement of school board members make, here or anywhere. CMS, like many city school districts around the country, has to try to close achievement gaps in academic performance and unequal distribution of resources in schools along racial and class lines—and have little or no power over the constraints they operate within. In CMS, that template was set by a federal judge's ruling 20 years ago that ended a successful desegregation program and led to an effective resegregation of schools by neighborhood. The district's highest-profile attempt to boost performance in low-performing schools recently ended after it failed to reach its goals after eight years (see page 19).
The same powerlessness seems to hold for the superintendents those board members hire: The aforementioned Brookings Institution study concludes that student academic performance does not improve with long-tenured superintendents.
Arts Tax: Filling a Hole
Before the economic crisis in 2008, the Arts & Science Council—Charlotte's largest and most prominent arts organization—filled its coffers primarily through workplace giving drives, which accounted for $11.5 million in 2007. Donations have fallen to less than half that, leading to what ASC Chair Valecia McDowell has called a "crisis point."
The proposed solution: A quarter-cent increase to the county's 7.25 percent sales tax rate that would generate an estimated $50 million per year. That money would go to the ASC and other arts and cultural institutions, plus parks and educational initiatives. County commissioners agreed in July to place the sales tax increase on the November ballot.
The public tends to support the idea of adequate funding for the arts—in the abstract. That can change when people find out that the funding will come from them, and how much it will cost, and what else they'll have to pay extra for. For its advocates, the sales tax vote could hardly come at a worse time: the same year as a property tax revaluation that hikes tax bills for a majority of county residents in an urban area with skyrocketing property values.
Arts leaders have told Charlotteans for years that the arts are essential to the kind of world-class city Charlotte has ached for years to become. We'll learn soon whether voters are willing to invest in that notion, and what mechanism arts advocates will fall back on if the answer's "no."