A 2019 Holiday Gift Guide for Charlotteans
Shop local gifts for hearts and homes this season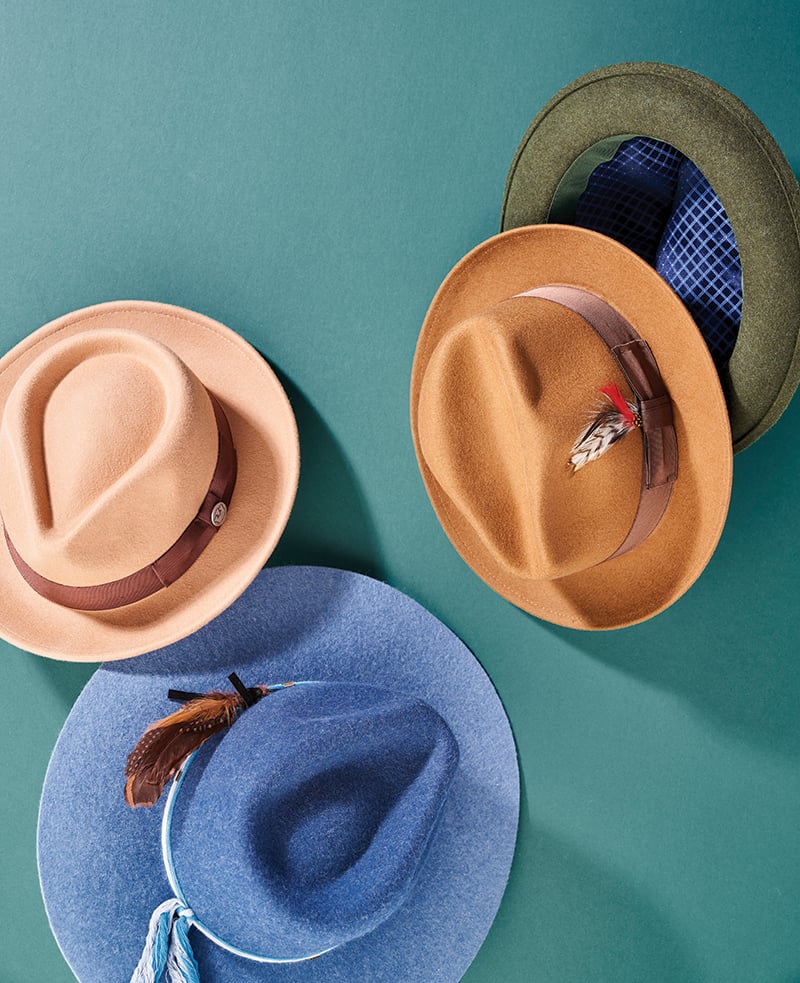 (Top of page, clockwise)
Goorin Bros "Montana de Oro" olive fedora, $75, Revolution Clothiers & Co., 704-971-1990
Magill Hats "Norfolk" rabbit fur felt fedora with feather, $110, Revolution Clothiers & Co.
"Country Boy" blue ombré wool wide-brimmed fedora, $85, Rowan's Haberdashery, 585-802-4553
"Mr. Paxton" all weather wool teardrop fedora, $65, Rowan's Haberdashery
---
Gifts for the little ones going places …
Bobo Choses yellow cosmo boots, $119, Tiny, 704-900-5667
Stella McCartney novelty rocket backpack, $172, Tiny
Manière pom-pom wool hat, $44, Tiny
Bashful bunny, $61, Shower Me With Love, 704-302-1555
Wooden wagon, $112, Shower Me With Love
Silk Road Bazaar dragon footies, $22, Mint Museum Shop, 704-337-2061
---
… and for those frozen in time
Commissioned artwork by Sarah Helser, pricing available upon request. Hidell Brooks Gallery, 704-334-7302
Commissioned pet ornaments and portraits, $120+. See available stock at durrettdesigns.com.
Other local artists:
Kristle Studio
Fine art originals, kristlestudio.com
Eva Crawford
Charcoal, pencil, watercolor, oil, and other mediums, evacrawfordart.com
Glyn A Stanley
Portrait photography, glynastanley.photography
Rusty Williams
Pet photography, rustywilliamsphoto.com
---
Gifts for toasting the joy of friendships …
Spirits
Conniption American Dry Gin, $33.95; Hine Cognac, $56; Domaine De Canton, $15.10, ABC Store
Champagne flutes, $26.95, Paper Skyscraper, 704-333-7130
Linen napkins, $48, Mint Museum Shop
---
… and the generosity of hosts and hostesses
Doc Porters rye whiskey, $41.95, ABC Store
Luxardo Maraschino cherries, $22.99, Earl's Grocery, 704-333-2757
Tag cocktail picks, $13.95, Paper Skyscraper
Wooden safety matches, $15, Lincoln's Haberdashery, 704-910-4660
Find local mixologist Salim Tucker's recipes for his French 75 and post-Prohibition Old Fashioned here.
---
Sparkles for going out on the town …
Lizzie Fortunato emerald sky collar, $345, Poole Shop, 704-553-8868
Bug cuff with rhinestones, $225, Primaura
Erdem navy crystal oval earrings, $580, Coplon's, 704-643-1113
Gedebe navy snakeskin jeweled clutch, $625, Coplon's
---
… and for inspiring conversations
Harlequin necklace, $125, Needles and Pins
Face the Facts earrings, $32, Jade Sky Boutique, 646-397-9173
Other local jewelry designers:
---
Gifts for teaching and preserving habitats …
Make a donation to these causes:
Conserve and protect local wildlife
Donate to North Carolina Wildlife Federation in someone's name.
Save a species
Support the North Carolina Zoo Society's conservation and research efforts.
Gift a tree
Make a $100 donation to TreesCharlotte, and the nonprofit will plant a seven-gallon tree in honor or in memory of a loved one at a local school.
*Tree shown is representative. Actual trees are much larger. Planter not included.
---
… and for reminding us of peace on Earth
Origami crane, $12.95, Paper Skyscraper
Gold peace sign paperweight, $28, Mint Museum Shop
Standard issue notepad no. 11, $11.50, Archer Paper Goods, Optimist Hall, 980-237-7286
Sierra wooden needle-point small pen, $9, Archer Paper Goods
Brass sharpener, $9, Archer Paper Goods
"Be Nice" coin pouch, $7.50, Archer Paper Goods