A 3rd Location for Queen City Q
Concord is the newest spot for the beloved barbecue joint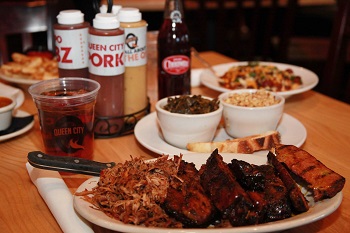 One of Charlotte's barbecue joints is expanding yet again. Queen City Q, which opened in 2012 in uptown, announced plans to open a 3rd location in Concord, NC, by early winter 2015, although plans could be delayed (as we see all too often). The newest spot will open near the Concord Mills Mall at 8524 Pit Stop Court NW, anchoring the Colonnade in a two-story stand alone building.
Along with a new bar, patio, private dining area, and seats for about 150 hungry diners, the newest location will have the same bells and whistles loved at the other two locations. Pork, brisket, ribs, chicken, and sausages will be smoked daily along with sides like mac n' cheese, hush puppies, onion rings, baked beans, and collards. There will also be plenty of local craft beers on tap, along with more than 40 whiskey varieties to wash down that smoked chicken we know you love.
In a news release, Queen City Q team member Bryan Meredith said, "We've been very busy lately and are excited to be growing again. Our Matthews location, which opened in July, is ahead of projections and we recently announced we're adding 2 locations inside Time-Warner Cable Arena. We love this location across from Concord Mills and its close proximity to Charlotte Motor Speedway; it also gives us the ability to continue one of our original goals which is creating local jobs."