A Box of Old Cookbooks Brings a Connection to the Past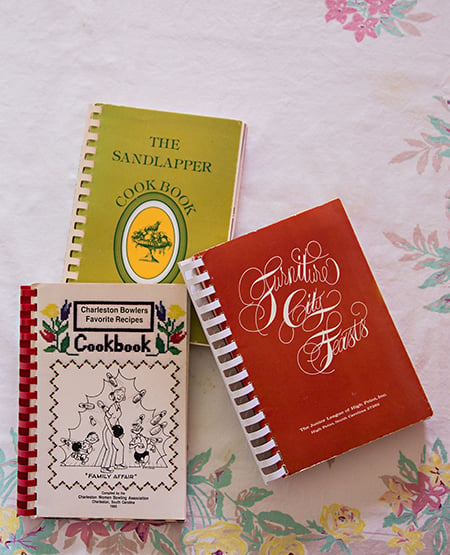 THE OLIVER COVER of The Sandlapper Cookbook screams 1970s. I find it toward the bottom of an overstuffed file box that Chef Bruce Moffett lets me rummage through one evening before his restaurant, Stagioni, opens for dinner. It is like my own personal yard sale—a yard sale in which everything is a Southern cookbook and everything is free.
There are three other boxes just like the first, gifted to Moffett by his neighbor, each holding treasures such as Charleston Bowlers Favorite Recipes and Furniture City Feasts from the Junior League of High Point, North Carolina. The cookbooks reach back as far as the '60s, some of them hardbound and printed in full color, others with tattered paper covers and plastic comb bindings. Many were printed as fundraisers for a community or an organization.
As we flip through the books, themes emerge. The '70s have much love for beef stroganoff and chicken tetrazzini. Curry shows up strong in the '80s, even finding its way into fruit and dessert dishes. Southern cooks in every decade like a good pound cake. The number of culinary applications for a box of Jell-O is absolutely astonishing.
The Sandlapper Cookbook reads like many of the others: uncomplicated recipes, sometimes with a brief introduction, often with the name and town of the person who submitted the recipe. It was printed in 1973 by the Sandlapper Publishing Company, a small publisher specializing in books on South Carolina. On page 85, I find a four-ingredient recipe for country-style steak that leads with a single sentence: "This recipe has been a traditional 'family-night supper' favorite at Fishing Creek Presbyterian Church in Chester County since 1752."
That would mean it precedes the Declaration of Independence by 24 years. Even with just four ingredients, I'm certain the recipe changed over time before being codified here; it calls for cornstarch—not invented until 1840—and a pressure cooker. Regardless, it puts me into research mode. I hop online to see if the church still exists. It does. This leads to more web searches, a short road trip, waving down strangers in the church parking lot to ask questions, and a flurry of emails.
In the end, I learn little about the origin of this recipe. I do, however, learn that this small community church has a big history, and that Coca-Cola salad is a thing. I also net a recipe for vegetable tea sandwiches and an irresistible pound cake that I will compel future dinner guests to try.
***
FISHING CREEK PRESBYTERIAN is south of Charlotte by only 36 miles, but without the hum of cars and trucks going by on the nearby interstate, you'd never know how close you are to one of the country's fastest-growing cities. The redbrick church has stood at a quiet intersection just past a cotton field since 1785. Behind the gravel driveway that circles the church is the cemetery, a big part of what leads me to Fishing Creek on a sunless Saturday in March.
The cemetery holds the remains of soldiers from every major war in which America has fought. It also provides a place of eternal rest for infants and young children, a sobering reminder that life is hard but used to be much harder. The church congregation members have gone to great lengths to ensure that the names of their dead aren't lost to time, installing granite markers at the base of deteriorating tombstones, such as the ones for Janet Walker, who lived almost the entire 18th century, and her husband, John Walker, who fought in the Revolutionary War.
At the bottom of a sloping hill stands a large, stone marker erected by the church to recognize a second, nearly invisible, cemetery reserved for black people before the Civil War. Beyond the line of small, broken tombstones that flank the marker are woods.
I somberly walk the rest of the rows before returning to the church, passing familiar names such as Gaston and Steele. Delicate, white flowers in the shape of tiny bells grow here and there, singing out against all the gray. I chat with three friendly parishioners, Linda Sudol, Ellen Toney, and Mike Conn, Commissioned Ruling Elder at the church. They are preparing for a memorial service that afternoon. We talk about the steak recipe, and about church food in general.
Despite decades of church history among them, none remembers eating that country-style steak at church. But they do remember the vegetable tea sandwiches made by Sudol's mother-in-law, Martha Hicklin Sudol. She'd finely dice bell peppers, celery, carrots, and onions by hand, fold them into a mixture of cream cheese and sour cream, spread this onto bread slices, and cut each sandwich into fours.
"Oh, honey, I loved them things," Toney says, shaking her head of silver hair in approval. "That's what everybody wanted, was Ms. Martha's sandwiches."
I've never heard of vegetable sandwiches before, but they're quite popular in this area. The Sandlapper Cookbook has two recipes for Chester sandwiches that are almost identical to Martha Sudol's, and a lot of the parishioners make some version of them. Martha's, however, were considered to be the best. She passed away in 2014.
Linda Sudol takes me on a tour of the church while Toney checks the church library for a lead on the steak recipe. Every element of the worship hall has a story: notches in the pews—believed to date back to 1785—that were supposedly a spot for gentlemen to rest their guns during services; sconces installed in memory of Martha Sudol's mother; offering bags attached to long wands, in use since the late 1700s (and used to wake up sleeping churchgoers, in the old days).
I catch up with Toney, who has found another cookbook that will fit in my new Southern cookbooks collection: the Fishing Creek Presbyterian Church cookbook from 1977.
I snap photos of 30 or so recipes: Coca-Cola salad, Purple Lady salad, ham loaf, yum yum salad, banana pudding, chocolate mayonnaise cake, plum nutty cake. Toney leaves the room and returns holding out two slices of pound cake in tin foil. She had used the cream cheese pound cake recipe from Phyllis Steel Rawls on page 56.
From now on, so will I. The fluffy, delicate crumb was just sweet enough, with no trace of oil, and slightly tangy from the cream cheese. This cake requires no adornment to be special. I wrap the foil around the second slice, to be enjoyed later.
"I'm glad someone was here today to talk to me," I tell her as I get up to leave. "I didn't expect to run into anyone."
"Well, the Lord puts us where we're supposed to be," Toney says. "I truly believe that."
I hug Toney goodbye, because that's what you do when someone gives you pound cake. As I head back toward the interstate, I pass signs advertising the Oakdale Fire Department BBQ and the Mount Holly Church fish fry. A few minutes later, around 1:30 p.m. and well past lunchtime, I find myself driving by the fire department. I think the day's good luck will continue, but soon realize they have already sold out.
***
LATER, LINDA SUDOL ends up in research mode, as well, trying to get to the bottom of the country steak mystery, trying to track down the original recipe for her mother-in-law's sandwiches. She even purchases her own copy of The Sandlapper Cookbook, and finds the name of Miss Mary Ann Armstrong of Chester waiting for her under the recipe on page 85.
The name holds promise; Toney's mother was Mrs. Mary Armstrong. But the "miss" and the "Ann" indicate a different—though probably related—woman.
Sudol keeps digging and finds a record of a Mary Ann Armstrong, born in 1750. She married a Bradford. Turns out, one of her children, William Walker Bradford, is buried in the cemetery, along with other Bradfords. I wonder about the possible connection to the Bradfords of recent watermelon fame, thanks to a Slow Food initiative to save heritage breeds from extinction. The Bradford watermelon's delicate rind—it can split right open while you hold it—holds a super sweet, juicy red flesh inside that has recently become prized once more by chefs and picnickers across the South.
It certainly seems possible that there's a tie between the Bradfords of today and the Bradfords from back then. This 40-member church and its cemetery take up only 17 acres of land, but seem to spread into much of our regional history, culinary and otherwise. I pry open the foil pack and break off a piece of pound cake, a cake made sweeter by the backstory and the people behind it.
Cat Carter is a freelance writer based in Charlotte. She is a regular contributor to Charlotte magazine. She can be reached at catyicarter@gmail.com.
---
RECIPE: MARTHA HICKLIN SUDOL'S VEGETABLE TEA SANDWICHES
Provided by Linda Sudol, daughter-in-law of Martha Sudol
"Martha, who we call Grandma, preferred to do this recipe by hand, even after we bought her a small food chopper to make the process easier for her. She never used it. Some admonitions from Grandma: One, never grate the carrots—it'll turn the spread orange. Two, you have to finely chop all of the vegetables." —Linda Sudol
1 large cucumber
1 medium bell pepper
1 large carrot
1 small onion
2-3 stalks celery
8-ounce package cream cheese, softened
Finely dice cucumber, bell pepper, carrot, onion, and celery.
Squeeze out excess water from the vegetables, then blend with cream cheese.
Cover and refrigerate at least 1 hour before spreading. Spread on plain white or wheat loaf bread, then cut the crusts off and cut into 4 squares, or use it as a dip for vegetables, crackers, and chips.