A Bread Tour, Wine Dinner, and More
We've got your weekend food events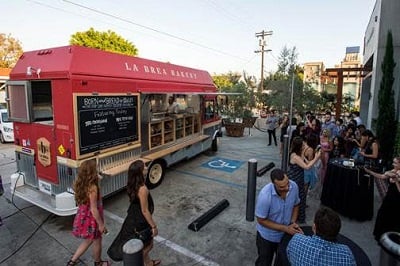 Bread and chocolate and wine make up your champion diet and event rundown this weekend:
Blue Restaurant & Bar: Today, Friday, August 28, head to Blue in uptown for a taste of Sicily. For $44.95 per person, Chef Gene Briggs will create a four course seated dinner to the sounds of live music thanks to Musica Nostra, an Italian mandolin and guitar trio plus an opera performance. Dishes include a pasta with tomatoes, eggplant, grated ricotta salata, and basil; a Sicilian blood orange salad with fennel; and, of course, dessert. The event kicks off at 7 p.m. with a Prosecco reception with butler passed canapes.
______________________
La Brea Bakery Breaking Bread Tour: La Brea Bakery – famous for its artisan bread – has launched the Breaking Bread Tour, stopping in various locations giving out artisan breads and various menu items.Samples include the Seedless Raspberry Jam and Almond Butter on a French Baguette, Salami, Sriracha Aioli and Pepper Jack Cheese on Rosemary Olive Oil bread, and Tomato Herb Bruschetta atop a Tuscan Loaf. Today, Friday August 28, through Sunday, August 30, the tour will make several stops in Charlotte:
Friday, August 28, 2015: 6 – 9 p.m.: Movies in the Park, 191 Sims Parkway, Harrisburg, NC 28075

Saturday, August 29, 2015: 12:30 – 1:30 p.m.: Harris Teeter – Pineville, 13000 S Tryon St, Charlotte, NC 28278 and
5 – 6 p.m.: Harris Teeter, 9925 Rose Commons Dr, Huntersville, NC 28078

Sunday, August 30, 2015: 12 – 1 p.m.: Harris Teeter, 16625 Lancaster Hwy, Charlotte, NC 28277; 2 – 3 p.m.: Harris Teeter – Ballantyne Village, 15007 John J Delaney Dr, Charlotte, NC 28277; and 4:15 – 5:15 p.m.: Harris Teeter – Foxcroft, 6701 Morrison Blvd, Charlotte, NC 28211
______________________
Cocoa Lab Classes: The Ritz-Carlton's cooking school has announced and expanded its cooking classes. Coming up this Saturday, August 29, from 8:30 a.m. to noon, a "From the Garden" class is being offered for $100 per person. Herbs picked fresh from the hotel's rooftop garden will flavor an array of desserts perfect for the end of summer. Recipes include an olive oil rosemary cake; citrus tart with cornmeal sage crust; honey lavender panna cotta; and a strawberry basil tart. Students receive complimentary hotel parking, a recipe collection, and a keepsake apron as part of the class fee. Reserve your spot by calling 704-547-2244.
______________________
The Fig Tree: On Tuesday, September 1, beginning at 7 p.m., The Fig Tree will host a wine dinner pairing wines from Shafer Winery with delicious courses created by Chef Greg highlighting seasonal ingredients. Cost is $105 per person plus tax and gratuity.