A Burger Fit for a Hornet
New Cowfish burger getting lots of "buzz"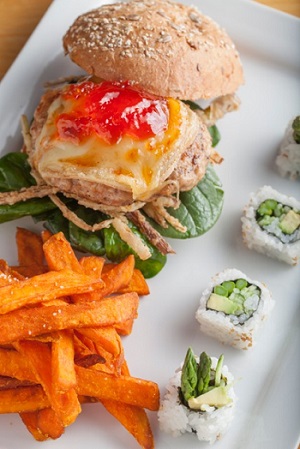 With the help of Michael Kidd-Gilchrist, the NBA Charlotte Hornets' small forward, The Cowfish Sushi Burger Bar in SouthPark has developed a new offering.
Kidd-Gilchrist, who recently celebrated his 21st birthday and is a regular at the restaurant, worked with The Cowfish Executive Chef David Lucarelli and Master Sushi Chef Rifali Almunir to develop Motor Keeps Going (MKG), a half-pound turkey burger snug atop a sesame bun, then topped with raclette, spinach and fried leeks. The whole concoction is finished off with a drizzle of hot pepper jelly. The MKG, which will sell for $20, is served with a half a vegetarian sushi roll and sweet potato fries.
But it gets better. Beginning January 15 and continuing through the end of April, The Cowfish will donate $5 from every sale of the MKG to A Child's Place, one of Kidd-Gilchrist's favorite charities. Founded in 1989, A Child's Place of Charlotte works to erase the impact of homelessness on children and their education by providing a full compendium of services to children and their families while they are in the midst of their crisis to keep the student focused on academics and learning.
During the 2013-2014 school year, A Child's Place served 2,843 children experiencing a housing crisis, 69% of the 4,131 students identified as homeless by Charlotte-Mecklenburg Schools. To learn more about A Child's Place or to make a donation, call 704-343-3790 or visit their website.
Kidd-Gilchrist, 6'7", was the second overall pick in the 2012 NBA draft. The Somerdale, N.J. native played one season at University of Kentucky, where he averaged 11.9 points a game and was a top 15 finalist for the John R. Wooden Award. Kidd-Gilchrist said, "I'm a big fan of The Cowfish. It's one of the first restaurants I went to when I moved to Charlotte and it has been my favorite ever since. … I'm excited to now have my own item featured on the menu. The Motor Keeps Going burger is a unique and healthy option and has a little bit of everything I like. It gets me through the grind. I hope everyone enjoys it as much as I do!"
If you haven't been to Cowfish, the restaurant is the nation's original Sushi Burger Bar and serves up everything from sushi rolls, to unique burgers, and the infamous "Burgushi" – a fusion of burger and sushi that offers the best of both worlds. The restaurant has locations in Charlotte, N.C. and Raleigh, N.C. with a recently opened third location at Universal Orlando Resort late 2014.