A Charlotte Beginner's Guide to Pairing Wine and Dessert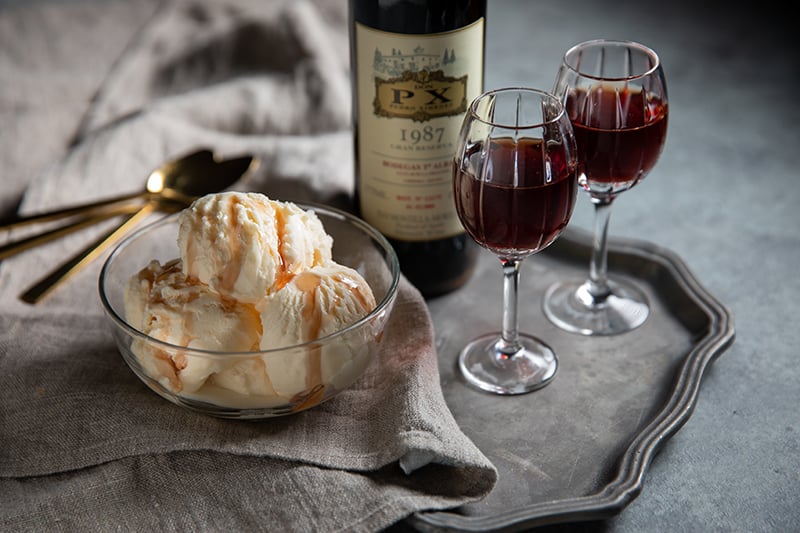 WE DON'T OFTEN put much thought into what we drink with our chocolate cake or apple pie, but some great wines pair well with dessert, adding a fun element to the final course.
The basic rule for pairing wine and dessert is the same as pairing wine with savory food: The wine should complement the dish. The wine should be at least as sweet as the dessert, with enough acidity for balance. This might seem counterintuitive, but the sweetness of the dessert actually makes the wine taste less sweet. If you drink something lightly sweet or even completely dry (like those last sips of your red wine), the wine could taste sour. Here are three common types of sweet wine and the desserts they pair best with.
---
Sparkling Wine
Some sweet bubbles such as Moscato d'Asti are quite sweet, while others such as demi-sec Champagne are just lightly so. White bubbles pair best with mild, creamy, or buttery desserts that include things like fruit or custard—think cheesecake, fruit tarts, and panna cotta. Red bubbles can hold up to chocolate.
Try: Sant' Evasio Brachetto d'Acqui 2016, $17.99, Foxcroft Wine Co.
Brachetto d'Acqui is a fizzy, ruby-colored wine with sweet strawberry and ripe red raspberry flavors. It's soft and light in alcohol and disappears quickly once opened.
Pairing: Make a banana split, brownie sundae, or a simple ice cream cone with sprinkles.
---
Still Wine
Still dessert wines can be made in a number of ways, but all start with sweeter grapes than those used to make table wine. They often can be syrupy and honey-like with baked fruit notes, so they pair well with sweeter desserts such as carrot cake, crème brûlée, and fruit pies.
Try: La Fleur d'Or Sauternes 2014, $24, Corkbuzz
When young, sauternes has a light, golden color with aromas of apricot, almonds, and honey. As the wine ages, it leans more toward caramel and candied fruit, with an amber color.
Pairing: Sauternes is classically paired with foie gras and blue cheese, but apple pie is another stunning pairing.
---
Fortified Wine
These wines are enhanced with a distilled spirit, usually brandy, which raises the alcohol content. Port and sherry are two of the most well-known types. Port is always sweet and can be made in a few different styles, ruby and tawny being the most common. Sherry, however, is usually dry, with the exception of Pedro Ximénez, moscatel, and cream. All of these wines pair well with dark, rich desserts made with chocolate, coffee, nuts, or caramel.
Try: Bodegas Toro Albalá Don PX 1987 Gran Reserva, $39.99, Assorted Table Wine Shoppe
This sherry is made from the Pedro Ximenez grape grown in southern Spain. It's rich and concentrated with notes of dried fruit, roasted nuts, caramel, and lemon peel.
Pairing: Pour it on vanilla ice cream or pair it with a pear tart, oatmeal cookies, or fruitcake.