A Charlotte Love Story—and the Charlotte Bars Where It Unfolded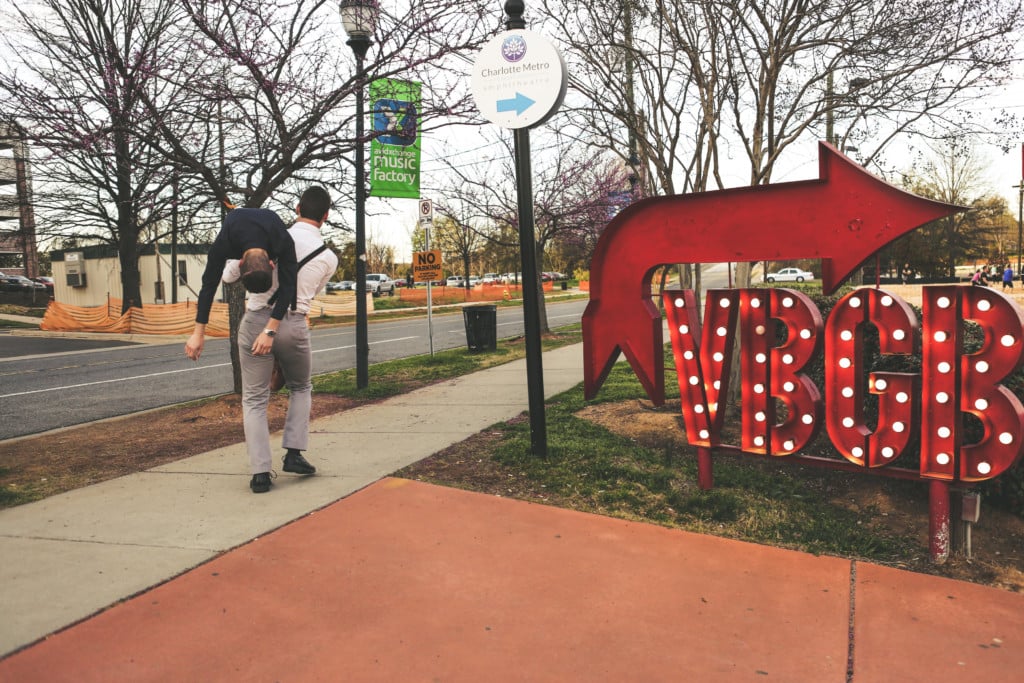 Nate,
I'm marrying you in nine months, but I'm not sure I'll ever love you more than the morning after you carried me out of The Blind Pig, over your shoulder, the whole bar cheering my ceremonious forced exit.
You know the story, of course, but they don't. So, hush for a moment, and let me tell them.
You spent the day with a friend who was moving away to Nashville, and I, well, I was quickly becoming the product, or rather, remnant, of a full summer day spent drinking sangria.
Then, as it often does in those Charlotte summer evenings, the clouds unfurled with buckets of rain. Before getting into an Uber to take me from a friend's house in Plaza Midwood to The Blind Pig, I slipped on the sidewalk and blew out my ankle. It hurt a lot, but a lot less than it would have had I not been a walking, breathing pitcher of sangria.
Inside the NoDa bar, it became obvious fairly quickly from my swollen, purple ankle that all was not well. My friends called you to come claim me, so you dropped everything, brought your friend along and carried me out of the bar to take me home.
I also forgot my keys that night, so after going to my house, in the impending summer flood that became that evening, we were forced to go back to your apartment. But, oh, those stairs. You lived on the third floor, and my ankle was clearly sprained. You carried me up each and every one of those stairs on your back and never asked a question.
And the next morning, you carried me into urgent care when I finally realized walking wasn't as easy as it had been last night.
As we spend our third Valentine's Day together (Has it really been that long? Have I really not annoyed you to no return yet?), I can't help but notice so many of our memories are tied up in Charlotte's bars. The Blind Pig is where I fell in love with you, but it's far from the only place I've loved you.
***
I HAD JUST COME from an open house-type event at school where I taught kindergarten, and I think I was still wearing my suspenders to our first date. I don't really remember; I just know you remember because you mention it all the time. I got to VBGB early and grabbed a table. I was so nervous! You were incredibly handsome, smart—and a teacher like me! I was looking for the catch, the bad news, the too-good-to-be-true bomb that would ruin everything
It never came, love.
We played trivia that Thursday night in May. We didn't do well, and I was embarrassed. I so wanted to impress you! It didn't matter; you're even worse at trivia than I am.
We ordered way too many pitchers of beer on a school night. You walked me to my car, and we kissed in the parking lot. That bar parking lot is where we took our engagement photos two-and-a-half years later, and the photo of us in that same spot hangs in our living room of the house we own together now.
I wouldn't have it any other way.
***
MY MOM'S BEST FRIEND, who had only a few moments before you'd be back, stole my attention and whispered to me, "Oh, Jared, I love him!"
She, along with my mom, had just met you at Common Market, when it was still there in South End, when it still the perfect place to bring your out-of-town family on Friday evenings to eat food from trucks. She didn't need long to know you. No one really does. You're annoyingly and terrifically easy to love.
The funny thing about love, Nate, is that I can't, for the life of me, remember what we talked about that night with my mom and her best friend, what we ate or drank or most anything else. But I remember how you made me feel—loved, whole and, mostly, proud—in that spot in South End that's no longer there.
***
OF COURSE, LOVE, there are so many other stories. I could talk for hours to people about the number of places I've loved you. There's the time at Thomas Street Tavern we found the last spot on the stage to watch the Panthers in the Super Bowl. There's the time we took my evacuated Florida family to Pinky's during Hurricane Irma and you felt more like family than ever before. There's the time at Salud where nothing special happened; we sat in our corner booth, drank a bottle of wine and talked about how we wanted to hurry home to be with Sawyer and Stella, our dogs.
But that's enough of our love stories for now, Nate. It's time for others to share their stories. It's time for other people to tell us about the Charlotte bars where they found love.
Have a similar story? Email it to Jared Misner at Jaredsmisner@gmail.com. Misner, a writer for this magazine, will compile your stories for a separate Valentine's Day article.​