A Conversation With the 16-Year-Old From That Video
Raymon Curry took part in a George Floyd protest Saturday, then went viral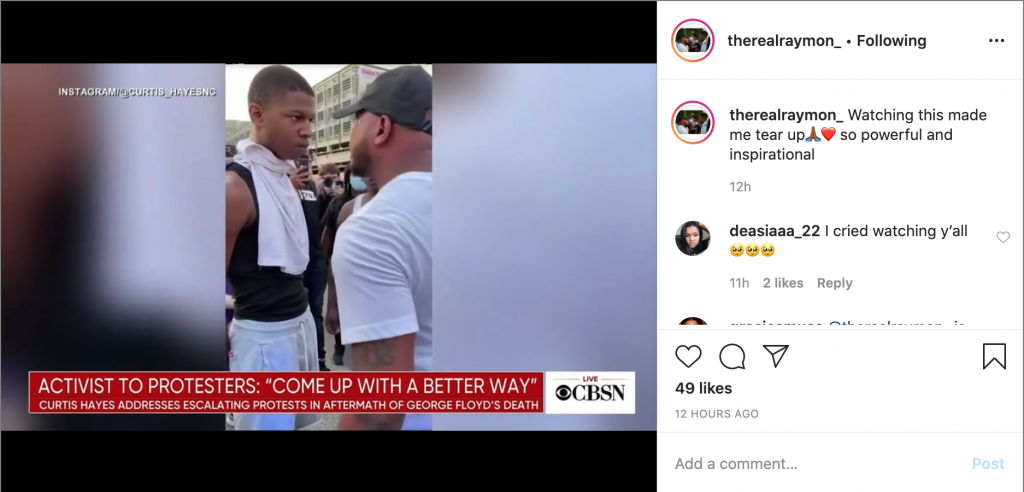 The 16-year-old from That Video Out of Charlotte—the video that people around the world had seen and wept over and shared hundreds of thousands of times—took to the streets again on Sunday. This time, he was joined by his new friend, the man who in the previous 24 hours had become a kind of mentor.
After dark, both said, a Charlotte-Mecklenburg bicycle officer cursed at and pepper-sprayed them.
The older man is 31-year-old Curtis M. Hayes Jr., a small business owner and activist. On Saturday, during a demonstration that briefly wound onto elevated Interstate 277, he pleaded passionately to a younger man to "come up with a better way." Someone captured it on video, and it ricocheted around the web. Some viewers commented that they wanted to know more about the young man.
The 16-year-old's name is Raymon Curry. He lives with his mother near University City and just finished his sophomore year at Vance High School. I spoke to him Monday evening. We might have spoken earlier, but he said his phone had overheated from everyone he knows texting and calling him about the video, so he had to get a new one. "I'm shocked because, like, I never expected this to go viral," Raymon told me. "I was scared, almost."
Raymon and Hayes, who had never met before Saturday, connected over Instagram on Sunday and met up for a demonstration that began in Romare Bearden Park uptown and wound through the streets until after midnight. Both men said they met up at about 5 p.m.—Hayes handed the younger man a sign that read, "I Can't Breathe"—and marched until about 11 p.m. At one point after dark, both said, they were trying to comply with a CMPD order to disperse when a white officer on a bike deliberately pepper-sprayed them.
Hayes told me the officer was not displaying a badge or name tag, and that although he took photos, he doesn't know the officer's identity. I contacted the department's public affairs office, which advised Hayes and Raymon to file a complaint with CMPD or the Charlotte-Mecklenburg Community Relations Committee. "We encourage anyone who feels they have been mistreated to file a complaint so we can launch an internal investigation," Officer Thomas Hildebrand, a department spokesman, wrote in an email.
Some highlights from my conversation with Raymon Curry:
"My mom, she didn't know that I went. I wasn't being disobedient or anything. But I knew if I asked her if I could go, with everything that's going on with coronavirus, violence, people looting and everything, she wouldn't let me go. But as a young man, I see stuff in the world. I can comprehend it. And I understand that there's things out here in the world that can harm me and put me in danger. But I feel like the other thing people should know is that you should give your child a chance and understand that they've got to go into the world someday. And they can't be at home forever."
"The way she found out—it was crazy, because she got woken up from her sleep early Sunday morning because her phone kept buzzing, buzzing. She was like, 'Oh, my God,' and she came into my room, and she was like, 'Son, you're going viral?' And I was like, "What? What's going on?' And my Instagram is, DeMar DeRozan, 50 Cent, D.L. Hughley, multiple celebrities reposting the video … The crazy thing about it was, when she sat down and had a conversation with me, the first thing she said was, 'What happens in the dark always comes to the light.' And I was like, 'Man, that is so true.' Because I felt like I wasn't necessarily doing something bad in the dark. But I did kind of let her know where I was at that moment and what I was doing, and she understood that I was there for a cause and a reason. I was there to have my voice heard."
"The way it started off, we all started marching around downtown, the square, and the police kept trying to block us from going to the highway, and we were trying to find a way to get to the highway. Once we got to the highway … the man you see in the video, not Mr. Hayes, but the older guy, the guy who said he was 45, he was next to me. And we're in the front of the police car. And we're sitting there. We're like, we're having a protest. We're being peaceful. I don't know if he was touching the car or not … and Mr. Hayes, he's right by me. Because he's trying to stop the 45-year-old man. He was, like, very close to the cop car. He rushed through. And as (Hayes) rushed to stop him, I guess through his peripheral vision, he saw me. And he turned around, I was like, "Why are you stopping him?" He's like, "How old are you?" And I let him know I'm 16. He was like, "Sixteen, man? Stay right here." So while he went to go stop the man again, (Hayes) stopped him, and that's how the whole video started."
"At that moment, I was still angry. I was feeling that rage that Malcolm X felt, to come back with the same aggression (police) came to us with. And Mr. Hayes came up to me, and he showed me a better way. There's a better way of dealing with that pain that these officers have given us. Find a better way to cope with your anger. Find a better way to communicate with them. Let them know that you don't like what they're doing and that what they're doing is hurting you to the point where you, at 16, had to come out here, and I'm in my head going, 'Dang, there's so many ways to go about this.' It was kind of like that point where you have the angel and the devil on your shoulder, and Mr. Hayes represents that angel. And I've got all this anger and built-up aggression towards almost every cop, because I don't know if you're racist or not … So I'm sitting there like, 'Mr. Hayes is really speaking to me. He's right.' I want him to be my mentor. I want him to be somebody I can come to and let them know that I need guidance from them."
"I'm not going to say I don't support the people rioting, the looting and all that, because where was the peace when Trayvon Martin was killed? Where was the peace when George Floyd couldn't even breathe? But I'm supposed to be peaceful because they don't want me to come back with the violence they have brought to us? You don't fight fire with fire, but at some point in time, you know, you just got to do what you got to do to have your voice heard."
"For me, it was heartbreaking because, as an African-American, only 16, is like—this is what I feel like goes over people's heads. I'm only 16, and I'm out here doing this. It shouldn't be no excuse for anybody to be at home saying, 'Oh, that's messed up,' and yet not do anything about it. My friend who is Caucasian, he messaged me, he was like, 'Hey, you want to go to the protest?' Because he, having African-American friends, he doesn't really understand, but he comprehends our pain. But if you're not African-American, you can't understand the pain that we're going through. You're having sympathy for us, and that's great. But until you actually have this skin, and you're racially profiled, and you go into a store, and you get followed by a car, and a lady beeps her horn at you multiple times, you don't understand."
"My mindset is beyond most people my age. I snuck out to go to a protest to have my voice heard. Most kids my age would have snuck out to go to a party, go meet up with friends, do drugs, or anything else. But me, my whole plan was to go downtown, let the police hear what I have to say, how I feel, and let them know, 'What you're doing is wrong.' Me, at the age of 16, I've got so many things to worry about. I've got college, I've got life—my dream school is Duke University, and I'm sitting here, I'm at home, and I see police killing people of my skin color for absolutely no reason. And I'm sitting there at home going, 'Dang, will I make it to even go to college? Will I make it to even walk across the stage to have that moment when I get my diploma? Or will I be profiled and killed in the middle of the street by a police officer all because of my skin color?'"