A County Commissioner Takes To the Streets
Pat Cotham goes uptown to shed light on the downtrodden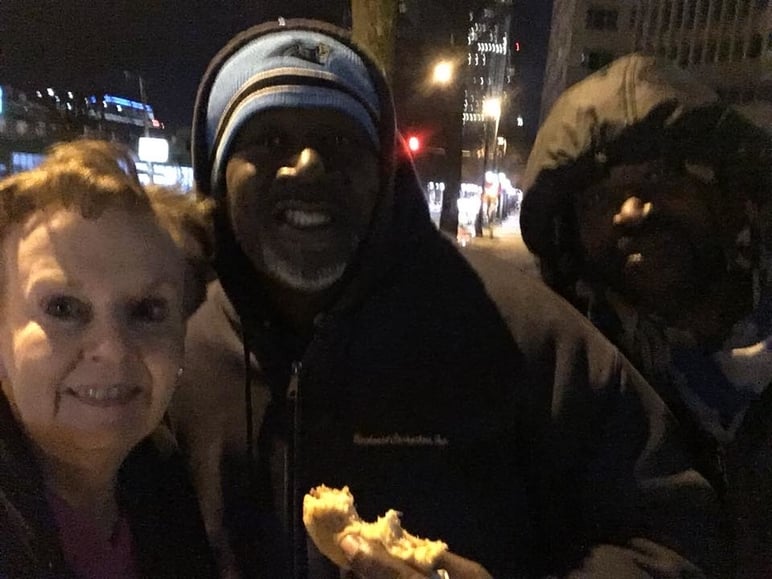 On the frigid nights since New Year's Day, Pat Cotham has taken her car uptown and gone looking for people trying to find places to sleep in the shadows of skyscrapers. Monday night wasn't as cold as the nights before—temperatures actually stayed above freezing—but people still huddled in the recessed doorways to avoid the chill.
Cotham saw a woman asking people for money on North Tryon Street near Stonewall. She pulled over and offered warm roast beef sandwiches from Arby's, hand warmers, and a poncho for the drizzly night. "She was petite and sweet and grateful for food and water," Cotham wrote on her Facebook page, where she posted a photo of Tracy. "She has been sleeping outside but she has a floor to sleep on this night so she was happy."
This isn't unusual behavior for Cotham, a Mecklenburg County commissioner and longtime advocate for the homeless. She used to work for The Center for Community Transitions, a nonprofit that helps people with criminal records regain their footing in society. "Homelessness is a big issue with me," she told me this week. "It's one of the reasons I ran for office."
During the longest and harshest cold snap in years in Charlotte, when overnight temperatures plunged below 10 degrees Fahrenheit, Cotham grew increasingly frustrated. The county has a Homeless Services agency that during the coldest days kept in touch with the city and local shelters, and the county consistently said shelters weren't full and beds and cots were available, making it unnecessary for the county to open an emergency shelter. So what were people still doing on the streets?
"I don't know!" Cotham said, exasperated. But she kept talking, and it became clear that she knew at least some of the reasons.
These folks are homeless and impoverished. They can't just check Twitter or pull up the local paper's website at will. They usually can't afford the long trek to one shelter—perhaps having to switch buses even if they can pay the fare—and risk learning it's full. Shelters usually have admission restrictions that add even more burden; what's merely inconvenient for most of us is disastrous for people without places to keep their scant belongings, who can't go from place to place or make phone calls or send emails at will.
"Well, yeah, there's empty beds when people don't know about them and they can't get there, and you won't take couples and you won't take families," Cotham said. She recently asked the manager of a local social service agency what she should tell people she encountered on the street if they wanted more information. The manager responded: Tell them to visit our website and fill out our registration form, then …
Cotham cut the manager off. "And I said, 'Stop. Stop. Listen to what you are saying to me. They don't even know what day it is.'"
It seems to her that the fix is a simple matter of communication and transportation that wouldn't take much effort or money. She encountered about 25 people uptown every night, she said. What if Homeless Services used county Park and Recreation vans, scoured the streets for two hours on cold nights, and transported homeless people to shelters they knew had space available? How much would that cost? Or what about a program, run through the shelters, that would allow people to donate $10 to at least purchase a homeless person a CATS pass for a week? It's not as if thousands of homeless people are flooding the streets. In fact, the number of homeless people in Charlotte appears to be dropping every year, despite the growing population. How is this still a problem?
"I don't feel there's a will" among some government and nonprofit leaders to solve it, Cotham says. So rather than bring it up before county commissioners, she's decided to take to social media to get more citizens behind her. "I'm going to continue to talk about this and post things and hope people will feel like something needs to be done and contact their county commissioners," she says. "Or new people will run for office, or something."