A Cupid-Approved Meal
BLT Steak and Vivace both offering special Valentine's Day menus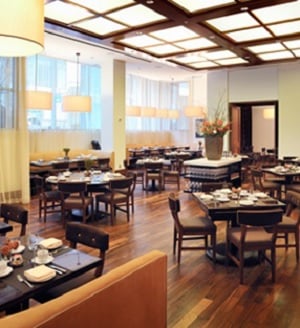 If you're a guy, chances are you're starting to feel the pressure from your special someone to do something (really, anything) for Valentine's Day. You can, of course, do the usual chocolate/flowers/jewelry route, but for many ladies (this one included), the way to a girl's heart can be through her stomach.
Chef de Cuisine Ben Miles of BLT Steak in Charlotte and Chef Mike Suppa of Vivace have both created special Valentine's Day menus for two which will be available on Saturday, February 14. Additionally, as a special treat for Valentine's Day weekend only, BLT Steak Charlotte will be open for dinner on Sunday, February 15 from 5:30 until 10:00 p.m. serving the restaurant's regular menu as well as the special prix fixe menu for guests looking to keep Cupid's party going.
At BLT Steak, as a starter, a Maine lobster risotto served with pancetta, corn and freshly grated parmesan will be served. For course number two, cut into a perfectly cooked, peppercorn-crusted New York strip steak with trumpet mushrooms, foie gras and red currant paired with a side of orzo and crab gratin topped with brown butter breadcrumbs. And, if you still have room, the dinner concludes with a sweet dessert of dark chocolate bombe with raspberries and lace tuile. If bubbly Prosecco cocktails are more your style than wine, ask for the grapefruit mint martini made with Hanger One Vodka, grapefruit juice, mint, simple syrup and Prosecco, or try a pear fizz with pear-infused Finlandia Vodka, Disaronno, lemon and Prosecco.
At Vivace, the special menu is designed to share, according to Chef Suppa. "We encourage people to order different antipasti and entrees – and then share. … Experience as much of this special menu as you can."
"We've had fun developing this menu," Suppa said. "Traditionalists will find a lot to love here – lobster bisque and beef tenderloin, for instance – but there are new twists, too. We're doing a carbonara that features duck prosciutto instead of bacon. It's unexpected and delicious. And our beet ravioli with goat cheese is extraordinary."
Other menu items include a roasted pear salad with chestnut polenta, escarole, and truffle muscadine vinaigrette; a pork chop Milanese with spiced apple butter and soprasetta; and a Springer Mountain Farms chicken with rosemary smashed fingerlings, creamy spinach, and Madeira jus.
Reservations are strongly recommended at both restaurants.