A Day for Mom
Mother's Day brunches throughout Charlotte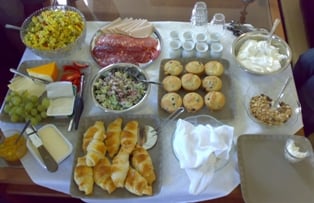 Mother's Day is a day to honor all things mama, and although mamas should be celebrated everyday, a few restaurants in Charlotte are offering Mother's Day brunches this Sunday, May 11:
Fahrenheit: The newest restaurant by Chef Rocco Whalen will offer mom spectacular views of Charlotte plus a free bellini or mimosa for mom. Brunch will run from 11 am to 230 pm. Cost is $42.95 for adults and $24.95 for children.
The Gallery: An elegant brunch at the Ballantyne Hotel possibly followed by a spa day may be the perfect day to show mom some love. The Gallery will have brunch from 11am to 3 pm on Sunday. Cost is $65 per adult and $32 for children.
BAKU: Have an adventurous mom? Head over to the robata-style restaurant BAKU in SouthPark for a shared plate brunch complete with tastes ranging from sushi to meat skewers. Cost is $50 for adults and $14 for children.
e2: Although this New Orleans-inspired eatery is usually closed on Sundays, Executive Chef Brian Mottola has crafted a special brunch menu for mom that'll be available from 10 am to 3 pm Sunday. Dishes include blueberry crepes, steak hash, oyster shooters, wood oven Scottish salmon and much, much more.
Passion8 Bistro: This stellar eatery in south Charlotte is featuring a 3-course menu designed just for mom. Brunch will run 11am to 230 pm and is $38 per person.
Zebra Restaurant: Mom is a high class lady, so she deserves a high class meal. Zebra is SouthPark will be offering a three course premium menu with seven courses for appetizer, entree, and dessert. Cost is $49 per guest, $12.95 for children.
Stone Mountain Grill: Mom gets a very special treat at this mountain-casual eatery in Ballantyne. On Mother's Day, mom's meal is on them. Offer limited to one regular menu and dine-in only.
Napa on Providence: Can't get to brunch on Sunday? Never fear. Napa will be featuring their 3-course brunch menu for $39 per person all weekend long. Opens at 10 am.
For a full list, check out OpenTable here. If you want to nix the restaurant idea and home-cook a special meal for mom, the chefs and culinary geniuses at Bon Appetit magazine have tons of ideas for you to check out.