A Feast of Food Events
Want a fancy wine dinner? How about some pizza? Chocolate? Greek food? We have it all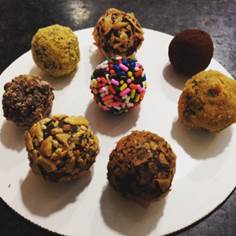 Now that fall is making its mark on the Charlotte area, there are lots and lots (and lots) of things to do this week and weekend for all you hungry (and thirsty) folks.
Yiasou Greek Festival: Yes, it's that magical time of year when the area around East Blvd is crowded with hundreds if not thousands of visitors to the one and only Yiasou Festival. Running from today, September 10 through Sunday, September 13, the festival offers attire, entertainment, and lots of Greek food. If you're craving gyros or baklava, they've got trays of it. Today the festival is open from 11 a.m. to 9 p.m.; Friday from 11 a.m. to 10 p.m.; Saturday from 11 a.m. to 10 p.m.; and Sunday from 12 p.m. to 8 p.m. Tickets are $3 per person; no pets allowed (except service dogs). Head to the Holy Trinity Greek Orthodox Cathedral at 600 East Blvd. for a fabulous time.
_________________
Mellow Mushroom: Throughout September, you can scarf down pizza for a good cause at one of Charlotte's three Mellow Mushroom locations. For the 4th year in a row, Mellow Mushrooms across the country will support Share Our Strength's No Kid Hungry campaign by raising funds in their restaurants. If you dine at a Mellow Mushroom during the month of September, you can help the cause in four different ways. First, you can make a donation of $10 to www.mmnokidhungry.com and receive a free small cheese pizza. Secondly, you can make a donation to the same website of $25 and receive a free small cheese pizza and a limited edition House of Shroom tshirt. Third, you can purchase the House of Shroom tshirt at www.houseofshroom.com and Mellow Mushroom will donate $1 to No Kid Hungry. Lastly, you can share you Mellow Mushroom meal on Instagram using the hashtag #MellowCupcake and #NoKidHungry and a $3 donation will be made on your behalf to No Kid Hungry. For more info, visit the website.
_________________
Vin Master: The spot in Atherton Mill has two events that should be on your radar. First, on Friday, September 11, from 7 to 11 p.m., Vin Master will host the Colure Networking Event. Come out to meet other professionals while sipping great wine. Secondly, next Thursday, September 17, Vin Master will host its monthly MegaTasting. The list is already more than 25 wines long, and the team is still adding more. Call 704-307-5565 for more information.
_________________
Blue Restaurant & Bar: On Saturday, September 12, from 11 a.m. to 1 p.m., Chef Gene Briggs of Blue will host a cooking class focusing on the cuisine of the Aegean and, namely, Turkey and Greece. Cost is $44.95 per person excluding tax and gratuity. Call 704-927-2583 to reserve you spot.
_________________
The Secret Chocolatier: Want to learn to make truffles? The Secret Chocolatier is hosting its "Chocolate Truffle Making" class on Saturday, September 12, from 2 to 4 p.m. at its Cotswold location at 2935 Providence Road, Suite 104. Chef Bill Dietz will teach students to make their own chocolate ganache, infuse flavors, prep, and use the ganache to cover a variety of treats. Cost is $60 per person and geared for ages 14 and older. Class space is limited and reservations are required either in person at The Secret Chocolatier, call 704-323-8178 or visit the website for more information.
_________________
Cookout for the Cause: Charlotte-based Headlines Barber Shop will host its 3rd annual Cookout for a Cause on Sunday, September 13 from 1 to 5 p.m. at Reedy Creek Park. The cookout is a fundraiser to benefit the Second Harvest Food Bank of Metrolina. To date, Headlines Barber Shop has collected 24,000 lbs of food. You can attend this free event by either buying raffle tickets, taking part in the silent auction, or donating.
_________________
Foxcroft Wine Company: On Monday, September 14, from 5 to 7 p.m., Foxcroft Wine Company will host seven winemakers from South America as special guests. The extensive tasting will take place on the patio and costs $10 per person (refundable when you purchase six bottles of wine at a 10% case discount).
_________________
Bonterra: On Tuesday, September 15, Bonterra will host a Tuscan wine dinner featuring Nada Vergili. Several wines from the Tuscan region of Italy will be paired with Tuscan-inspired hors d'oeuvres. Cost is $25 per person. RSVP at 704-333-9463; space is limited.
_________________
Posana in Asheville: Looking to get out of town in the near future? On Thursday, September 24, Posana Restaurant in Asheville will host a benefit dinner for the ASAP Growing Minds Program. In addition to its regular menu, the eatery will offer a 100% local menu. If guests order from the local menu, all proceeds will go to the Growing Minds Program. The program focuses on connected children and students to their local farms, teaching younger generations the benefit of supporting local growers and producers to help maintain a sustainable and healthy community. Reservations can be made online or by calling 828-505-3969.