A First for Fox Sports' Shannon Spake This Weekend: A Panthers Home Gig
Finally, a chance for a longtime sports broadcaster to report on her hometown team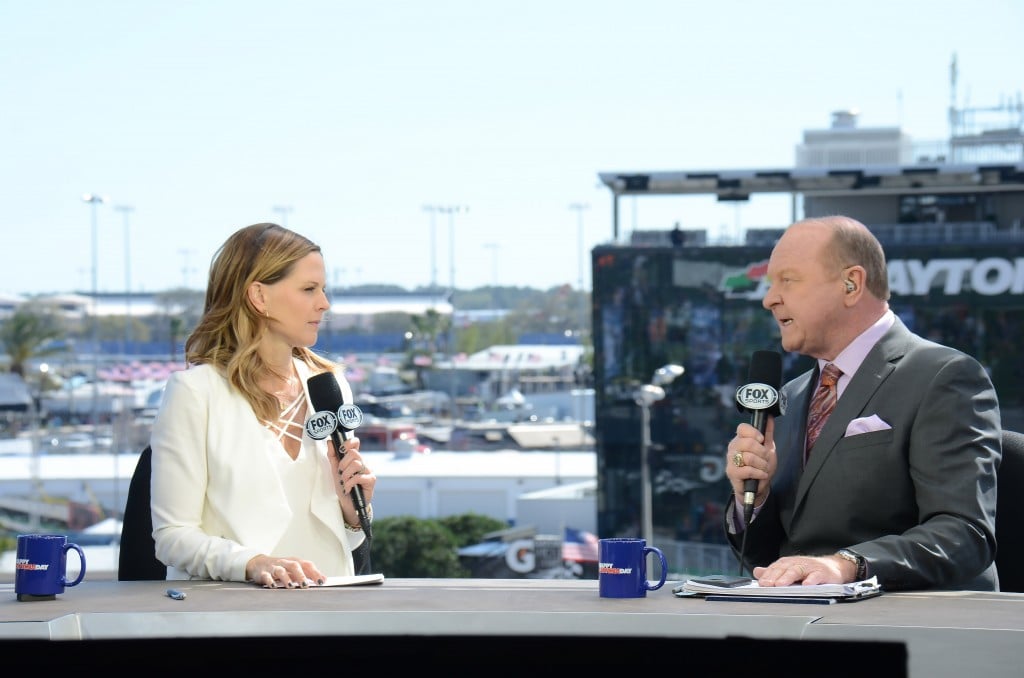 This weekend brings a surprising milestone for FOX Sports host and reporter Shannon Spake, considering she only has a half-hour commute to uptown from her home in Denver. After more than 15 years as a broadcaster, including four years at Fox Sports, where she covers the National Football League, NASCAR and college football and basketball, she's finally been assigned the sideline reporting job at the Panthers' home stadium: Sunday's matchup against the Chicago Bears.
Even though she broadcasts weekly from NFL games across the country, many of those games are blacked out in Charlotte, televised only in the specific regional markets of the teams. So not only will this be Spake's first time reporting from insider the Panthers' stadium, but it will also be the first time many of her friends and family in Charlotte get to see Spake at work, outside of being "the NASCAR girl."
"Sometimes they see me on the sidelines, and obviously they see me on Race Hub," Spake said of her job co-hosting the daily racing highlights program. "It's a different level of pride, a different emotion they feel (with an NFL game)."
The pandemic has made this a strange time for a sideline reporter to come home. This weekend's crowd of black-and-blue-draped fans will have a maximum capacity of 5,126. Also, Spake's not permitted on the actual sidelines; she's limited to the first row of seating. For a sideline reporter, that means no mingling with players as they warm up and no following coaches into the locker room for comment. "You really have to be really proactive and be prepared to say, 'All right, what are some storylines that we might be following this game?' and try to get all that information on a Wednesday and a Thursday," Spake says.
It's a challenge she's plainly made for, says Fox Sports game producer Fran Morison. "She's a go-getter. She's not a wallflower," Morison said. "She's not somebody that's gonna wait for her story to come to her."
Morison recalls the the time in Week One of this year when Spake was in Chicago, reporting on the team the Panthers play on Sunday. She had a feeling Khalil Mack, the Bears' linebacker, was going to be more vocal and create an additional storyline. Spake noticed Mack trying to energize his teammates and so she grabbed her microphone and yelled for a camera. "She's not just standing around waiting to talk about who has a hurt ankle. She's watching and looking to see what's going on with these teams. And that's," Morison said, "how you get a good story."
Her best "story," though, might be from a time she was behind the camera rather than in front of it. A few years ago, the team at Pixar found her on social media and asked her to voice the character of Shannon Spokes, a reporter, in Cars 3. Her twin boys, Liam and Brady, were in first or second grade at the time, and what's better than your mom being a talking car?
"We all went to watch the movie together with, like, eight of their friends and their moms, and it was really cool," Spake said of her role as Spokes. "The boys absolutely love it. They think it's really cool their mom's a car."
Rockstar status aside, Spake is particularly excited about another perk of a hometown gig this weekend. "I'll be home by 5 o'clock rather than having to jump on an airplane, "Spake said, laughing.
Misner is a writer in Charlotte. His work has also appeared in The New York Times, Our State and The Chronicle of Higher Education, among other outlets.