A Food-Sensitive Charlotte Restaurant Guide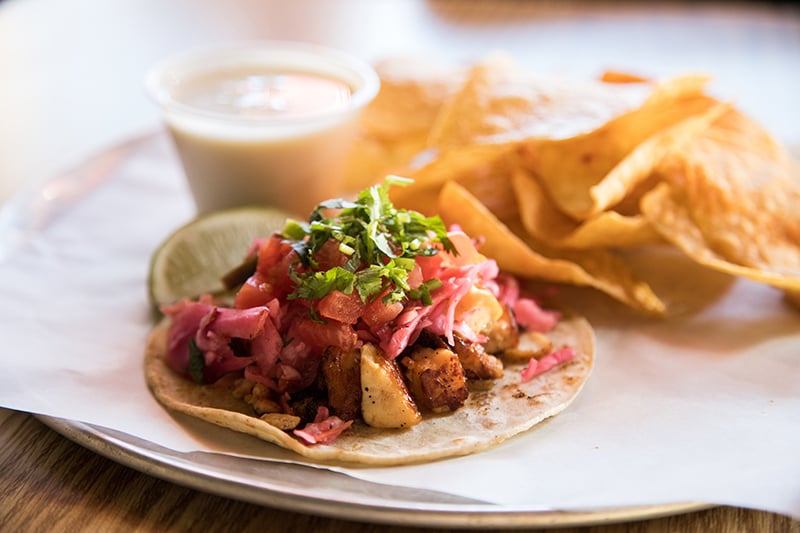 MOST MEALS OUT begin the same way. "I'd like the salmon salad, but without kale—and can you put the Gorgonzola on the side?" I ask. Or, "Is the filet grass-fed?" "Is the chicken organic?" No, I'm not trying to reenact a scene from When Harry Met Sally or Portlandia. I have ulcerative colitis, an inflammatory bowel disease.
I was diagnosed with UC four years ago by a gastroenterologist. Food isn't what gave me UC. It's an autoimmune disease that causes inflammation in the large intestine, which is where much of our food is digested. And therein lies the twisted marriage of UC and food: When I'm having a UC flare, food becomes my enemy, and at times has made me scared to eat.
There is no reliable UC diet, but I've learned that for me, certain ingredients are triggers. For instance, I can't eat goat cheese grits, but plain grits with butter are fine. In general, soft cheeses, fried foods, most pork, and fatty foods are off-limits. When I'm in remission, I treat food like a science experiment, and allow one variable per meal to learn what works. Here's a list of places I've found where avoiding food triggers is a bit easier.
Quick Eats
Chopt
Raw veggies are harder to digest than cooked ones. I avoid kale, onions, and the sriracha dressing. The Palm Beach salad is clutch; I like to add beets to mine.
The Mayobird
Chicken salad is a good staple. The Nuts and Berries still has fruit, but not grapes (the skins can be triggers), and the Real Dill is nice and light. Avoid the more exotic choices, such as the curry or buffalo sauce, as spice can cause discomfort.
Pasta & Provisions
The ginger and carrot soup is a favorite, as ginger aids in digestion. Be mindful of the cheeses, but fontina, mozzarella, and Parmesan are all reliable.
---
Weekday Fare
Sabor Latin Street Grill
I stick to chicken, fish, or veggies here. For burritos and nachos, refried beans are a safer bet than black beans. A side order of queso lets you enjoy a small taste without causing much irritation.
Dish
The blackened grilled chicken breast is flavorful yet simple (just order it plain and without the Dixie caviar), or order a vegetable plate.
Brixx Wood Fired Pizza
Simple ingredients and pairings are what make Brixx safe for me; just watch the cheeses. The Rustica, Chicken Florentine (without feta), Margherita, and Rosemary Chicken and Mushroom are my go-to pies.
Bad Daddy's Burger Bar
When I found out grass-fed burgers didn't cause my UC to flare, I was in heaven! I go with the create-your-own option, to avoid troublesome toppings such as jalapeño bacon, spicy garlic ketchup, and creamy truffle aioli.
Mac's Speed Shop
The smoked chicken here cures my BBQ craving. If I'm in remission, I'll get the collards (collards are high in insoluble fiber and are hard to digest); otherwise, I go with sweet potato fries.
---
Date Night
Café Monte French Bakery & Bistro
I adore French food, but the sauces don't always adore me. Skip béchamel and cream sauces. The salmon is delightful, and I appreciate the no-nonsense ingredients of the sides.
Deejai Thai
Curry can be tricky. I get the Panang curry with chicken, and ask for low spice. The shrimp tempura roll is fried, but the breading is light and it's not greasy, meaning it's easy on your system.
Bistro La Bon
The grass-fed filet and the salmon are reliable options. The veggie risotto is available upon request, and is one of the few in town not cooked with cream.
Luciano's Ristorante Italiano
The chicken piccata and the scallops are both cooked in lemon butter (lemon helps digestion) and are light and tasty. I avoid ricotta cheese, sausage, and veal, but most of the pastas are worry-free, too.
UC can feel very isolating at times, and hard to explain to people. Visit the Crohn's & Colitis Foundation for support. The Carolinas Chapter meets the third Tuesday, bimonthly, at 3016 Providence Rd.