A Food Tour of Dilworth
Eat your way through the neighborhood with this guide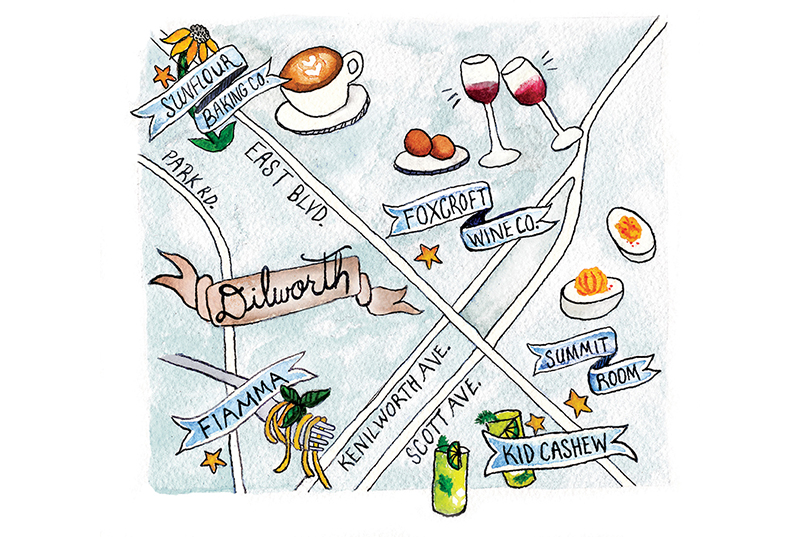 EAST BOULEVARD HAS MADE Dilworth a dining destination, with cuisines from Indian to Mediterranean, and places with well-crafted cocktails or beers. Here's how to spend a late afternoon and evening eating and drinking in the neighborhood.
---
1. Coffee Break
Where: Sunflour Baking Company, 220 East Blvd., 704-332-5222
Hours: Mon-Sat, 7 a.m.-7 p.m.; Sun, 7 a.m.-4 p.m.
Why: The East Boulevard location of this popular bakery is bright and airy, with large windows—and great people-watching.
What to order: Start with a caffeine kick. Sunflour serves coffee roasted by Pure Intentions and Counter Culture. Feeling a bit peckish? Order the Magic Bar, a sweet and chewy cookie bar with coconut, chocolate chips, walnuts, and a graham cracker crust.
Where to sit: You can sit outside on a nice day, but the best spot is inside at the counter along the windows. From your seat, you can watch the cars and the foot traffic pass while enjoying your coffee.
---
2. Cocktail Hour
Where: Kid Cashew, 1608 East Blvd., 704-208-4148
Hours: Mon-Thurs, 11 a.m.-10 p.m.; Fri-Sat 11 a.m.-11 p.m.; Sun 11 a.m.-9 p.m.
Why: Exposed beams, a dark interior, and intimate seating create a homey setting at Kid Cashew, a Mediterranean-inspired restaurant with a large bar fit for a drink and shared plates.
What to order: The cocktails are standouts. A carafe of the goat's breast milk (don't be fooled by the name), made with ouzo, amaretto, honey, mint, and lemon, is great to share, but one of the living libations, such as the cilantro cocktail made with tequila and jalapeño syrup, is great to sip.
---
3. Snack attack
Where: The Summit Room, 1531 East Blvd., 980-237-2227
Hours: Mon-Thurs, 5 p.m.-10 p.m.; Fri-Sat, 5 p.m.-11 p.m.
Why: With an interior that feels as though you're in a lodge, complete with a fireplace, The Summit Room serves cocktails named after the highest mountain on each of the seven continents, and Southern-inspired dishes.
What to order: The pimento cheese fritters or the BLT deviled eggs are reminiscent of family reunions or summer cookouts, but with a more upscale take.
Where to sit: Grab a drink at the bar and watch the kitchen at work.
---
4. Dinner
Where: Fiamma, 2418 Park Rd., 704-333-3062
Hours: Mon-Thurs 11:30 a.m.-2:30 p.m., 5-10 p.m.; Fri-Sat 11:30a.m.-2:30 p.m., 5-11p.m.; Sun 5-10 p.m.
Why: Located in an unassuming shopping center, Fiamma serves northern Italian cuisine with homemade pasta.
What to order: Start with the polpettini di melanzane, eggplant croquettes served with salad and goat cheese. Then, order the tagliolini alla granchio zafferano al succo di, a homemade saffron pasta sautéed in a spicy tomato sauce with crabmeat, as your entrée.
Where to sit: To the right of the main dining room is a small balcony area that's great for privacy, but still allows you to see what's going on in the restaurant.
---
5. Dessert
Where: Foxcroft Wine Co., 1235 East Blvd., 704-602-2133
Hours: Mon-Sat 10 a.m.-11 p.m.; Sun 2-9 p.m.
Why: The East Boulevard spot is newer and larger than Foxcroft's SouthPark location. It's intimate yet spacious, with a patio and ample space inside.
What to order: The signature Foxcroft doughnuts are made in-house and are more round than traditional doughnuts. They're served with two dipping sauces that change regularly, but have included chocolate ganache, marshmallow fluff cream, and a caramel apple sauce.
Where to sit: You can't go wrong with your seat at Foxcroft, but our recommendation is to sit in the main room where you enter the space. You can see folks come in, sneak a glimpse as the kitchen staff prepares dishes, and watch servers bring wine to patrons. Shop for a bottle to take home on your way out.