A Gift for Mom
The owner of HoneeBee Gifts gives us a few tips for Sunday's upcoming holiday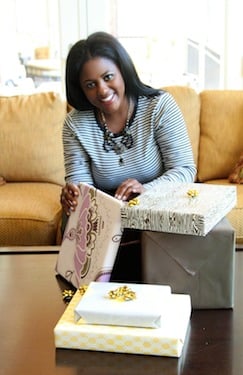 When it comes to Mother's Day, Simone McDowell recommends selecting a gift that will be a treat.
"This is the time to really get your mom something she wouldn't get herself but would enjoy and appreciate," McDowell says.
McDowell is the owner of HoneeBee Gifts, where she specializes in working with clients to find the right gifts for special occasions. She also writes about gift ideas and tips on her blog. One of the first things she has a client do during a consultation is make a list of the recipient's personality traits. So for Mother's Day, she recommends thinking about your mom's interests.
McDowell recently gave her mom a collection of skin-care samples because her mom had been asking questions about McDowell's skin-care routine. When you take some time to think about the person, McDowell says, you'll find that you know her better than you thought.
"I've also noticed that people do wait to the last minute, and that's when they start to get all worried," McDowell says. "It's all about preparation. It is giving a gift, but it takes some prep time to think about what you want to get someone."
If your mom is into food, dinner at a new restaurant or a dinner cruise is a good option. Or if you want to do something a little bit different, consider a personal chef's dinner for her and some friends or a culinary class.
McDowell also likes to put a twist on Mother's Day go-to gifts. If your mom is into gardening, get her the traditional bouquet of flowers, but also include some seed packets for flowers to plant in her yard. Or make a basket of gardening supplies with a few cut flowers tucked into it.
Also think about adding a small gift to enhance an experience, McDowell says. If your mom has a trip coming up, put together a toiletry bag of nice soaps, lotions, and other travel accessories. If she enjoys biking or hiking, take her to a trail and have a gift ready once you reach the end of the trip. It doesn't have to be a huge investment; thoughtfulness is the key. Her favorite cookie or a packed picnic lunch would be a nice surprise.
For those with little children, make sure that the gift comes from them, not you. Whether you're a dad helping with mom's gift or a mom helping with grandmother's gift, let the child have some say or take part in the process.
"Bring out the child in the gift," McDowell says. "I don't think 'Joey' would pick out a Swiffer."
And don't overthink it. Framing a child's artwork or preparing breakfast in bed and sharing it as a family is a simple gesture that will give mom a story to tell for years to come. But for those who are too busy or overwhelmed with the idea to select a gift, leave it to McDowell. After a consultation, she gives clients a list of three gifts from which to choose and the option to have her purchase it, wrap it, and deliver it. Once you pick one gift, then you have two ready for another special occasion or just because.