A Guide to Charlotte Craft Beer Week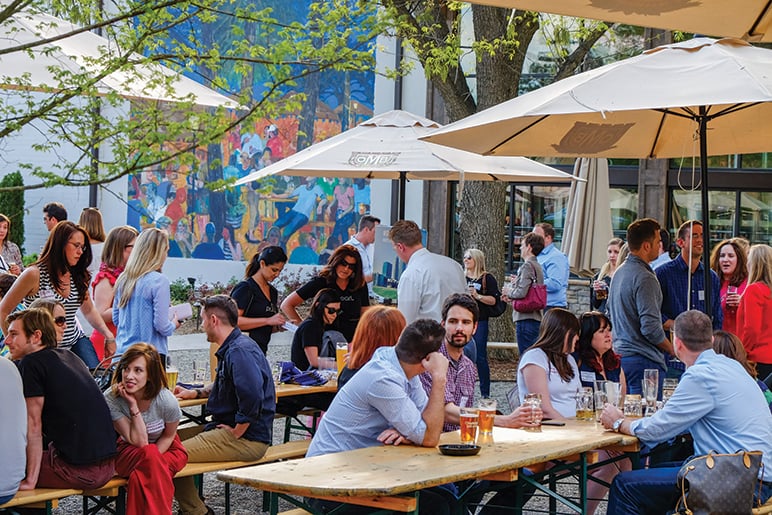 Charlotte Craft Beer Week was something I always looked forward to, even before I began writing about local craft beer. There were always some great events, and it allowed you to celebrate Charlotte's ever-evolving number of different breweries as well as partake in some new beers.
For a time though, CCBW fell off a bit in my opinion. While there were still a few can't-miss events, it became a little too jumbled with poor structure. As I wrote in my 2016 year-end column, I'd rather have quality over quantity. This is a week where this city should be showing off why it's becoming a craft beer destination for many.
So I couldn't help but be a little excited when I saw the website for this year's Charlotte Craft Beer Week. There seems to be a happy medium between new and old events, and I believe this is only going to get better under the new leadership of Jason Reiner, who took over the main planning a couple of years ago.
While you can find all of the activities here, the following five events are the ones I'm the most excited about and dubbing "must-attend." Two are new, two have been around for some time and then there's one that should have always been part of this week:
Sunday, April 2: #cltbeer Uptown Craft Crawl
Uptown Charlotte doesn't get a ton of love in the local craft beer scene, primarily because there are no Charlotte breweries in the area. But the restaurants and bars in Uptown do a great job of supporting local beers, with many going with the majority of local brews on tap. This crawl showcases these establishments, which includes Brixx, Courtyard Hooligans, Cowbell, Draught, Flight, Mellow Mushroom, QCBC, Queen City Q, RiRa, Tank's Tap and Valhalla. The crawl is free (just pay for your beers as you go), and there are two starting points: 7th Street Market (parking validation is being offered at Brixx and Queen City Q) and Draught. You'll also have the opportunity to get a free T-shirt and pint glass (both are limited). The first annual #cltbeer Uptown Craft Crawl runs from noon to 5 p.m.
Wednesday, April 5: The Rumble in the Alley
This is one of the longest-running events for CCBW and never disappoints. A host of breweries set up shop in the alley behind Common Market in Plaza Midwood with specialty kegs, all vying for your vote of the best beer. Trust me when I say these brewers bring some great beer for this event, and it's a spectacular deal at $30 for unlimited tasting. This year's Rumble will feature local and regional breweries in Burial, D9 (which won last year), Granite Falls, Holy City, Legal Remedy, Preyer, Wooden Robot, Resident Culture (this is a chance to try beers from this soon-to-open brewery in Plaza Midwood) and more. The Rumble in the Alley runs from 6 p.m. to 9 p.m. and you can purchase tickets only at the door.
Friday, April 7: Craft Freedom Festival
It's been a big week for the Craft Freedom initiative, with House Bill 500 being filed Tuesday that would raise the self-distribution cap to 200,000 barrels annually. The Craft Freedom Festival, which will be held at Olde Mecklenburg Brewery, is a chance to learn more about this movement and how it is affecting local breweries while also enjoying unlimited samples from Birdsong, Blue Blaze, Cabarrus Brewing, GoodRoad Ciderworks, Legion, Lenny Boy, NoDa, Primal, Thirsty Nomad, Three Spirits, The Dreamchaser's Brewery, Triple C, Wooden Robot and, of course, OMB. Tickets for this event (which is from 6 p.m. to 9 p.m.) are $30, which includes a commemorative glass, and can be purchased here.
Saturday, April 8: Duckworth's Cask Festival
Another fan favorite for some time, Duckworth's on Montford will once again host breweries in the Battle of the Casks. Each brewery will bring a rare cask (meaning unfiltered and naturally carbonated beer), and you'll be able to vote on the winner at the end of the event. Participating this year are Ballast Point, Birdsong, Coronado, Highland, NoDa, Sycamore and Wooden Robot. Tickets are $25, which includes a tasting glass and one pour from each cask. The Battle of the Casks begins at 1 p.m., and you can get your tickets either by going to Duckworth's or calling 704-527-5783.
Sunday, April 9: CCBW Closing Event at Brawley's Beverage
No other name is as synonymous with local beer as Michael Brawley, who has often been dubbed as "The Godfather of Charlotte craft beer." So having the final event at Brawley's Beverage makes so much sense and I hope this event continues for as long as CCBW runs. The taplist is not yet available, but you can expect some special local beers here. Also, in keeping with Brawley's charitable causes of late, $1 from every pint sold at this event (which runs from 3 p.m. to 5 p.m.) will go to Doctors Without Borders.