A Guide to Charlotte's Top Bar Food Spots: 2023
Kick back with your favorite brew and pair it with a burger, pizza, taco, or creative bar bite from one of these neighborhood hangouts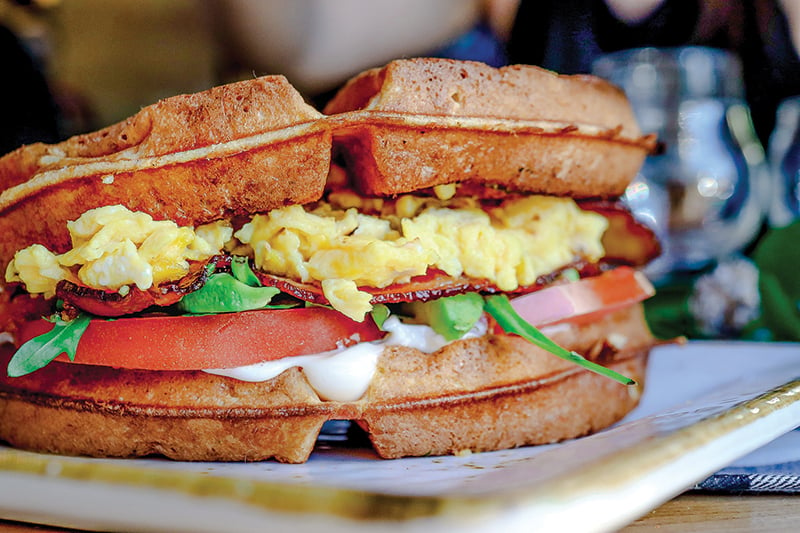 The phrase "bar food" can be misleading. What all of these spots have in common is being a place that does both food and drinks with excellence. In some cases, it's a brewery with surprisingly good dining options; elsewhere, it's an exceptional pub that doesn't slack in either direction.
---
Legion Brewing
5610 Carnegie Blvd.
844-HOP-LOVE, ext. 2
To call it bar food would be an insult to Legion's executive chef, Gene Briggs. Along with owner Phil Buchy, he turned SouthPark's first craft brewery into a food destination. You can count on a solid burger and chicken wings at the full-service restaurant, but Chef Gene spans multiple cuisines in this kitchen. Get a Pork Belly Gyro, a Pho Mi Dip, Carnitas Pizza, or a Pastrami Cheesesteak—each one tastes like it's his specialty. Come for Sunday brunch and have a Juicy Jay Chicken Breakfast Biscuit or a Carnitas Breakfast Pizza with mimosa flights or a lineup of brunch cocktails. Chef Gene changes his menus regularly, though, so certain dishes come and go. But everything he cooks pairs well with a can of Juicy Jay on the patio.
---
44 Mills Kitchen & Tap
6189 Bayfield Pkwy.
704-787-9655
Behind the bar is an Oktober can seamer, which seals 32-ounce craft cans—or crowlers—straight from the tap, and a custom beer tower with 16 taps. Order a burger or entrée-sized salad if you're really hungry; if you prefer to graze, get an assortment of small plates and "bar snackage" like fried pickles and mini-ham biscuits.
---
Brewers at 4001 Yancey
4001-A, Yancey Rd.
704-452-4001
Executive chef Drew Ward uses beer as an ingredient, from a pilsner-infused cheese sauce for the Victory Pretzel to the Hop Devil mustard on the Brewhouse Burger.
---
The Common Market
2007 Commonwealth Ave.
704-334-6209
A neighborhood hangout with locations in South End and Oakwold, this market and deli serves quick and delicious sandwiches, local craft beers, snacks, sweets, and more.
---
Cowbell Burger & Bar
201 N. Tryon St., Ste. 1010
980-224-8674
The sister restaurant to Leroy Fox has a trendy, pop culture vibe and a roster of fancy burgers including a foie gras-topped masterpiece for $20.
---
Dilworth Neighborhood Grille
911 E. Morehead St.
704-377-3808
This wood-paneled, two-level sports bar is the place to take your family for no-frills burgers, wings, and beer on game day.
---
Divine Barrel Brewing
3701 N. Davidson St., Ste. 203
980-237-1803
The Sidekick CLT food truck has a permanent spot here, with personal pizza pies like You've Been Meatballed, High-waiian, and Ricky Ricotta.
---
The Eagle Food & Beer Hall
2120 South Blvd., Ste. 1
704-780-1570
Choose from over 100 craft beers and feast on fried chicken with a side of house made hot honey, plus comfort food sides like mac and cheese, collards, and hush puppies.
---
Ed's Tavern
2200 Park Rd.
704-335-0033
This Dilworth mainstay has drink specials every night of the week—stop by for $4 on Tuesdays, $15 Bud Light buckets on Sundays, or choose from 32 taps of regional craft beer. Order some jumbo wings or $3 tacos and find your game on one of over 30 big screen TVs.
---
Fat Cat Burgers + Bakeshop
2410 Park Rd.
704-372-2009
Owner Fran Scibelli reimagined the former Fran's Filling Station to include burgers, fried chicken, and a walk-up window that serves handmade donuts.
---
Fenwick's
511 Providence Rd.
704-333-2750
This Myers Park mainstay has served consistently good sandwiches, burgers, and salads since the 1980s.
---
Flatiron Kitchen + Taphouse
215 S. Main St., Davidson
704-237-3246
High-quality steaks are a given here, but the seafood and vegetables are treated with the same respect.
---
Heist Brewery
2909 N. Davidson St. #200
704-375-8260
A slew of flatbreads, burgers, wraps, and hearty appetizers like the Chipotle Chicken Nachos dominate this menu. (The brunch buffet is also a Best of the Best Award winner.)
---
Jackbeagle's
3213 N. Davidson St.
704-334-5140
Order a cold beer and munch on unconventional bar bites like mac and blue cheese with bacon.
---
Lebowski's Neighborhood Grill
1524 East Blvd.
704-370-1177
Grab a stool at the bar and order a burger, brat, or the popular "Beef on Weck." Enjoy it with a local brew—or one of six House White Russians.
---
Leroy Fox
705 S. Sharon Amity Rd.
704-366-3232
Come to this casual eatery for fried chicken and upscale pub grub, or snack on some pretzel bites and zucchini fries with a beer on game day. An additional location is in South End.
---
Mac's Speed Shop
2511 South Blvd.
704-522-6227
Solid barbecue and cold beer (150 choices) in a motorcycle-themed space draw fun-loving crowds, with additional locations in Matthews and Lake Norman.
---
Moo & Brew
1300 Central Ave.
980-585-4148
Come for a cold beer and burgers loaded with bacon, chili, and beer, and brew-braised 'shrooms.
---
The Olde Mecklenburg Brewery
4150 Yancey Rd.
704-525-5655
Don't know which kind of sausage to get? (Smoked Baurenwurst? Gyulai? Jalapeno Cheddar Bratwurst?) Get the sampler. The Bavarian-Style Pretzel is also a favorite.
---
Piedmont Social House
2135 Ayrsley Town Blvd., Ste. C
704-912-5160
Order a craft beer, cocktail, or boozy slushie and play a few rounds of pool, foosball, or yard yahtzee. Celebrate your win with some pretzel dippers, wings, or meatball sliders.
---
Pinky's Westside Grill
1600 W. Morehead St.
704-332-0402
Housed in an old auto shop, this funky spot serves loaded burgers, hot dogs, and sandwiches alongside $6 pints and $18 pitchers.
---
Protagonist South End
227 Southside Dr.
980-209-0735
Pizza sizes range from 16 to 28 inches. Like the beer, they're named after protagonists, like the Lando Calrissian (with pepperoni, spicy Italian sausage, and veggies).
---
Providence Road Sundries
1522 Providence Rd.
704-366-4467
Classic bar food and friendly service have made this a beloved neighborhood hangout since 1933.
---
RockSalt
512 Brandywine Rd.
704-503-9945
Grab a table on the patio and enjoy the daily catch or fresh oysters from the raw bar.
---
Room and Board
3228 N. Davidson St.
980-430-3136
Inside a two-story Victorian home and former boarding house, have your choice of sandwiches, burgers, and wings, or come for Sunday brunch and get a "hangover pizza."
---
Salud Cerveceria
3306-C N. Davidson St.
980-495-6612
These sandwiches and wood-fired pizzas include the Stankonia (one of several OutKast references): red sauce, Parmesan, brussel sprouts, burrata, prosciutto, sea-salt, and pepper.
---
Sir Edmond Halley's
4151 Park Rd., Ste. A
704-525-7775
This British pub, named for the astronomer and mathematician, serves a menu of hearty dishes like chili, meatloaf, and fish and chips until 2 a.m.
---
SouthBound
2433 South Blvd.
704-912-1889
The breezy vibes and bright flavors at this taco joint call for a Pacifico or a margarita.
---
The Suffolk Punch
2911 Griffith St., Ste. A
704-319-8650
The Suffolk Punch does a lot of everything: food, beer, cocktails, wine, coffee, and more. For eats, the shareables menu has Tuna Nachos and Kung Pao Wings, with mains that include Shrimp Po' Boy Tacos and Fish & Chips.
---
Town Brewing Company
800 Grandin Rd.
980-237-8628
New word for you: Brachos. That's Town's cider-braised bratwurst, with black beans, corn salsa, and aioli on corn tortillas. (The Pigs in a Blanket are tasty, too.)
---
Wooden Robot Brewery
1440 S. Tryon St., Ste. 110
980-819-7875
Executive chef Kate Scherpenberg elevates standard bar food with favorites like Fried Bao Buns and Black Bean Tacos.
---
The Workman's Friend
1531 Central Ave.
980-224-8234
Enjoy Irish classics like fish and chips and shepherd's pie in this rustic dining room, or grab a pint at the custom-built walnut bar.