A Letter Lost To History? Not Exactly
Moisture ruined most of what was inside a 50-year-old time capsule. But we found the lost text of a 1964 letter written to Charlotte's mayor in 2014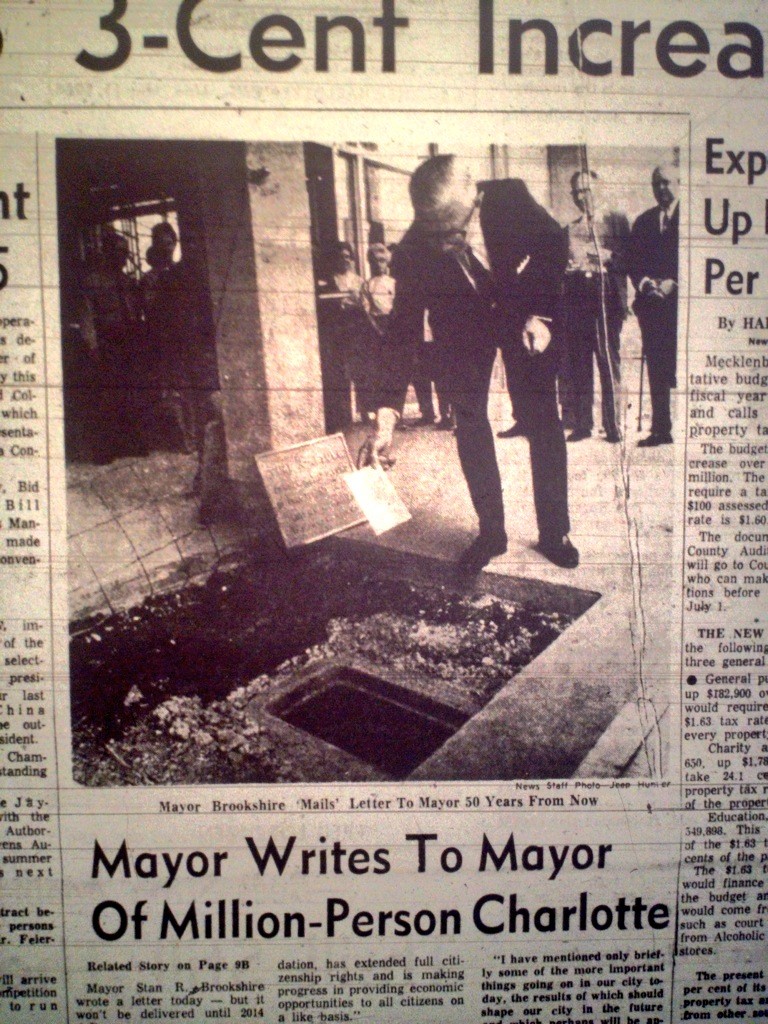 Well, that was a bummer.
On Sunday, the Park Terrace Theater opened a time capsule, 50 years to the day after it had been buried. A big crowd, including mayor Dan Clodfelter, came out to take a look.
Reel tape first thing pulled out of Park Terrace capsule in Charlotte. pic.twitter.com/iBJwZ4P2o1

— Elisabeth Arriero (@EArriero) May 11, 2014
The results were, uh, a bit underwhelming.
At the #Charlotte Time Capsule opening. Unfortunately, it wasn't sealed too well 50 years ago; a lot of mud and goo! pic.twitter.com/boEZY3UZgf

— Amanda O'Hara (@OHaraFOX46) May 11, 2014
The things that survived were a key to the city deposited there by then-Charlotte mayor Stan Brookshire, along with a film reel. Everything else, as you can see, was turned to goo, which someone poured into an empty popcorn bucket.
This was what was left of the newspaper in 1964 time capsule opened today in #CLT See what survived at 9! @twcnewsclt pic.twitter.com/RGtlgFxEB1

— Litsa Pappas (@LitsaPappas) May 12, 2014
This wasn't all that surprising. Time capsules have always been about present day ego rather than standing the test of time. One buried at the old Charlottetown Mall in 1959 in front of 50,000 people was dug up 25 years later to a crowd of only 300. The actual capsule itself, a child's coffin, didn't keep moisture out. The result was about the same as what we have here: a moist mess of unreadable musty paper.
So what does stand the test of time? What can last fifty years? Microfilm.
When I first heard about the time capsule, I went and found the microfilm showing a copy of the May 11, 1964 edition of the Charlotte News. The now-defunct afternoon paper covered the burying of the time capsule at Park Terrace, even featuring a picture of mayor Brookshire dropping in a letter he'd written to the mayor of Charlotte fifty years hence. While the physical letter itself turned into goo, we now know from the article what the mayor wrote. Rather than try to paraphrase, I'm including the entire story here:
Mayor Stan R. Brookshire wrote a letter today, but it won't be delivered until 2014 A.D.
The mayor sealed it with a key to the city in a compartment at the new Wilby-Kincey Theater on Park Rd. Opening ceremonies were held this morning.
The letter, addressed to the mayor of Charlotte in the year 2014 A.D., said "I would imagine you are presiding over a city of more than 1,000,000 people, and that you are deriving considerable personal satisfaction from serving a wonderful and growing metropolitan city."
Mayor Brookshire said that he guessed the mayor of 2014 faced many of the same problems of Charlotte of 1964. "I sincerely hope that no intervening wars have added to your problems."
Mayor Brookshire gave a brief description of Charlotte of 1964 and mentioned such points as the new zoning ordinance, the proposed government plaza, slum clearance, the redevelopment program and the housing code.
He mentioned the 20-Year Thoroughfare Plan and the planned opening and widening of downtown streets and adding circumferential belt lines around the city.
"In the area of human progress," the letter said, "Charlotte, out of civic pride and social conscience, has moved to correct inequalities of the past, having within the last year dropped discrimination based on color or national origin in most places of public accommodation, has extended full citizenship rights and is making progress in providing economic opportunities to all citizens on a like basis."
"This, we believe will enable more of our citizens to become self-respecting, self-supporting and contributing members of our free society, thereby raising the level of citizenship and building a better day.
"I have mentioned only briefly some of the more important things going on in our city today, the results of which should shape our city in the future and which perhaps will be apparent in the year 2014 A.D.," the letter said.
Mayor Brookshire said he wished "you and all the citizens of Charlotte in the year 2014 much health, happiness and success."
As you can see, mayor Brookshire correctly predicted Charlotte's outerbelt, which was already being talked about at the time. He was wrong about the population figure, although only by about a quarter-million people. (Charlotte's 1960 population was 201,564). His comments about race predated the Swann vs. Charlotte-Mecklenburg Board of Education case by six years — the case led to forced busing to help integrate Charlotte's schools and give students of all races a more equal shot at a good education.
So what else was in that capsule? According to another Charlotte News story: bulletins from Myers Park Presbyterian Church, a history of the motion picture industry, the first ticket sold at the theater, pictures of the city's best dressed men and women, and newspaper articles from both the Charlotte News and the Charlotte Observer. The News' entertainment writer made some predictions for 2014, although he probably wouldn't have predicted that his words would turn to mush. As an acquaintance told me, this ended up being a "priceless ode to medium over message." Thanks to microfilm, at least we know what the message was.
UPDATE (May 13, 2014, 8:35 a.m.) – Over at NBC Charlotte, I talked to Levine Museum of the New South historian Tom Hanchett and Carol Dabbs, Brookshire's former neighbor, about the letter, the predictions, and the era in which Brookshire wrote it: