A Look at Charlotte's Beer 'Burbs
Following growth and money, craft brewers rapidly colonize the city's satellites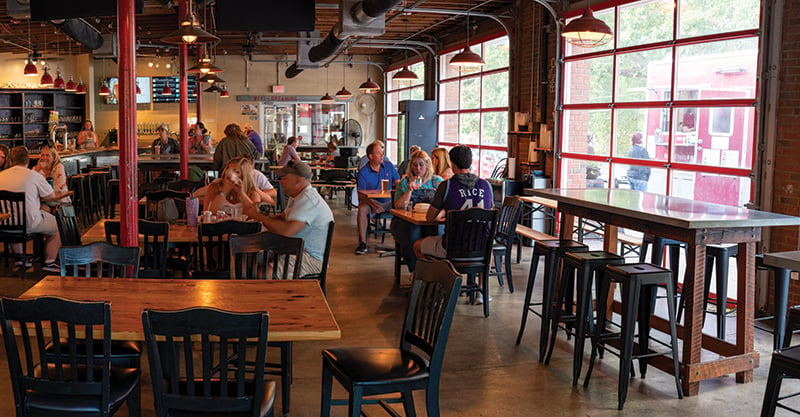 The DreamChaser's Brewery in downtown Waxhaw is 23 straight-line miles from Trade and Tryon. You can choose any of three main routes to drive there, none of which takes fewer than 40 minutes. On the way, I pass open fields; just-completed subdivisions and signs on vacant land that announce others soon to come; and, on two-lane Marvin Road, a creeping tractor that holds up the traffic behind it. Semi-rural, suburban Charlotte, in other words, where the city's growth extends tendrils beyond the Interstate 485 loop.
Neil and Anita Gimon moved to Waxhaw in 2002, and the brewery and business they've built in the old Volunteer Fire Department building illustrates how Charlotte's beer scene is increasingly, and predictably, spreading beyond city limits. Of the 84 breweries in this magazine's taproom directory, published in the August issue, 39 are in Charlotte's suburbs, 10 of those in South Carolina. Breweries and taprooms follow people and money, and the city's soaring housing prices and scarcity of available land are pushing them into suburban towns, communities, and counties—like fast-growing Union. DreamChaser's was the county's first when it opened in 2016, and Neil Gimon is considering a larger production center and more locations.
"I think if you just look down (U.S. Highway) 74, there's still plenty of room that we could actually have a couple of more breweries, and we won't be stepping on anybody's toes," Neil says as he sips a pint at a DreamChaser's table after work on a steamy August afternoon; he has another full-time job, as an IT manager for a nearby distribution company.
Neil mentions Americana Beer Company in Monroe, which has just opened. The Gimons were aggressive about opening in Union County six years ago, he says, because they could see what was coming: "We wanted to be the big, hairy ape in the corner when another brewery opened up."
Before the Gimons moved to Waxhaw, Neil worked in internal operations for GE Global Exchange Services in the Washington, D.C., area and brewed his own beer as a hobby; Anita worked as a landscape designer, which she still does full time. Both grew tired of the expense and hassle of D.C. They chose the Charlotte area because it was close enough for them to return to D.C. to visit family and Waxhaw for its good public schools and healthy environment for their two young sons.
Over the next 13 years, Neil was laid off four times—twice by Bank of America. A few months before his last layoff, he was diagnosed with prostate cancer. Doctors caught it early and operated. He's fine now. But by 2015, he'd had enough of the corporate life. He and Anita started thinking: Waxhaw was beginning to swell with newcomers, many with children. He knew how to brew beer. Charlotte's craft beer scene was booming—but the closest brewery was more than 20 miles away through the fields and new subdivisions.
"The business model we use is: All right, a person is working up in Charlotte, comes home (to Waxhaw), changes, picks up his wife or her husband, gets a babysitter for the kids, gets in the car, drives up (to Charlotte), tries to find parking somewhere, maybe pays for parking, maybe hits a brewery or two, then drives all the way back and pays the babysitter," he says. "Or have something in their own backyard they can take the kids to, and everyone has a good time."
As in other suburban taprooms, DreamChaser's is more family-oriented than what you'd encounter in South End or NoDa. The adult clientele skews older, and a trio of vintage video games in one corner draws the kids. People bring their pets, too, and not just the usual. Patrons have brought in pigs, chickens, an iguana. "We're also dog-, cat-, and wombat-friendly," Neil adds. "I'm still waiting for somebody to bring a wombat in here."
Greg Lacour is the editor.