A Look at Christmastime in Uptown Charlotte: Then and Now
What uptown has lost and gained, from the 1940s to today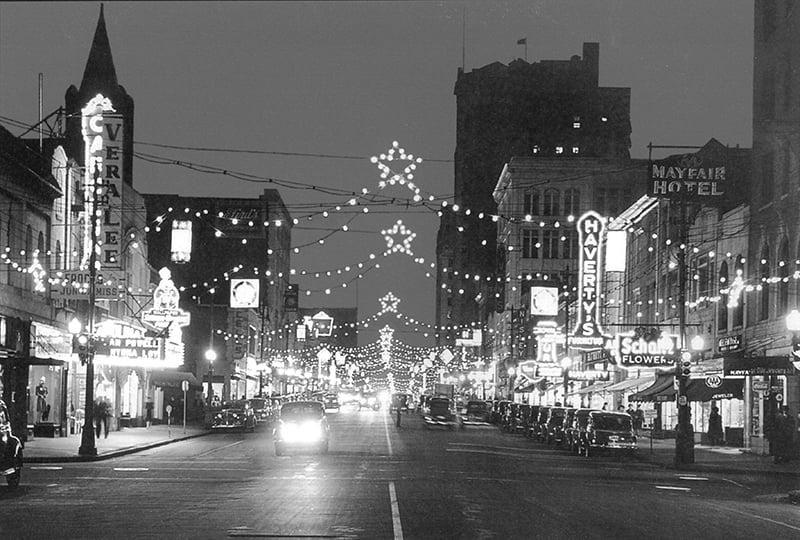 Cities are transformation machines. They're always changing. Usually, it happens a little at a time. An old building comes down, and a new one goes up. Ditchdiggers replace a stretch of curb and sidewalk. A spindly tree inches skyward.
It's not until you look back that you grasp the cumulative effect.
So take a careful look at the photo above. Can you pick out anything from today's Charlotte? Anything at all?
It's Christmastime, right around World War II. The cars are rounded specimens, today considered classics but then just everyday transportation. The decorations strung across the street look almost handmade, composed of individual light bulbs rather than the color-shifting LED wonders that slick up Tryon Street today.
To the right, can you make out the sign for the Mayfair Hotel? That's now The Dunhill on North Tryon at Sixth Street. It's once again a stylish place to stay. But I remember when it stood empty and open to the weather, a victim of America's rush to the suburbs; who'd ever want to stay in an old downtown hotel? Thankfully, the Charlotte-Mecklenburg Historic Landmarks Commission designated the 1929 structure as a landmark in 1988. That helped spark investors' interest in its rebirth.
Run your eye southward from the Mayfair down the right side of Tryon Street toward the heart of town. I see a jewelry store, a flower shop, and then the big sign of Haverty's Furniture. Haverty's still sells sofas and dining tables, of course, but its stores are out near suburban Carolina Place and Northlake malls rather than downtown.
Half a block beyond Haverty's, can you spy a six-story structure with lights along its top? That was Ivey's Department Store, which competed with Belk for decades until Dillard's bought it. Today, it's filled with street-level restaurants, including fancy 5Church, with condos and a mini-hotel above.
To the left, the exuberant marquee of the Carolina Theatre stands out, even though it's partly obscured by "VERA LEE Junior Miss Frocks." One of the Thin Man comedy films is playing, with snappy repartee by William Powell and Myrna Loy. The Carolina closed in 1978 during the suburban exodus, and it would stand vacant for more than 40 years.
Fortunately, the Landmarks Com-mission stepped in again. When wrecking crews demolished the front part of the structure, HLC helped get the terra cotta façade carefully disassembled and stored. Sometime during 2022, it'll be reassembled in a new glass lobby as Foundation for the Carolinas remakes the theater into a glittering venue for lectures and events.
If you stroll downtown to admire the holiday lights this December, you'll see a vastly different North Tryon Street than in 1940. Shopping is almost gone, unlikely to return in the age of Amazon. But restaurants, rarities in the 1940s, abound in these blocks. The cacophony of lighted signs has vanished. But a canopy of trees now shades the sidewalks.
For all its transformations, Tryon Street is once again Charlotte's coming-together place. Office workers and LYNX riders venture back by day; theatergoers and nightclubbers converge at night. Friends visiting Charlotte? Take them for a jaunt uptown, a museum visit, a meal—especially under the holiday lights. Says Robert Krumbine of Charlotte Center City Partners, which installs the decorations these days: "Everything feels a little bigger, a little brighter—a place of warmth, wonder, and magic."