A Look Back at Don Cody and Charlotte's Soul Train
It didn't last. But for a few years in the late '80s, Don Cody hosted the hottest show in town.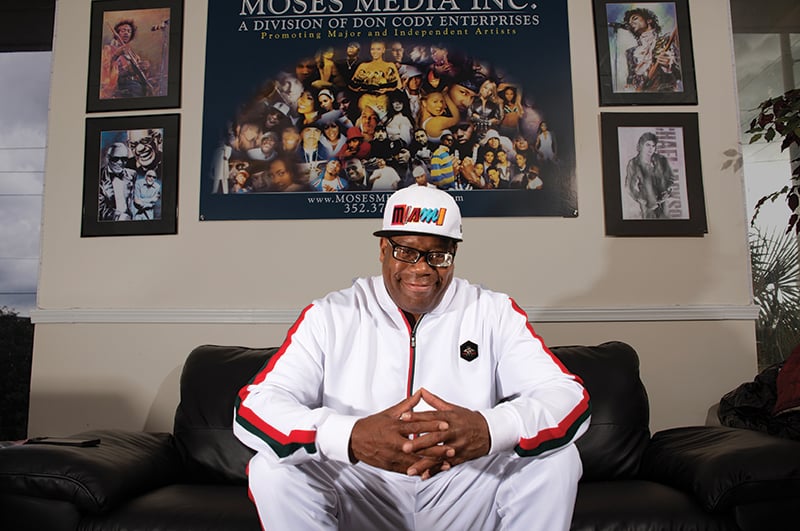 At 17, Don Cody marched into the offices of KATZ-FM in St. Louis in search of a job. KATZ was the city's No. 1 urban station, playing hits from Stevie Wonder; Earth, Wind & Fire; and KC and The Sunshine Band. Cody had limited experience, an unreliable car, and a high school class schedule. What he did have, he told the station's brass, was an unbreakable work ethic, confidence, and a knack for showmanship. They told him no.
A year or so later, on his second try, Cody landed a job at KATZ. Fresh out of high school, he worked the graveyard shift, midnight to 6 a.m. Over the next five years, he moved up a single time slot, 7 p.m. to midnight. KATZ was a powerhouse. The primetime jocks were entrenched figures who weren't going anywhere. It was the early 1980s. Disco had given way to the nascent hip-hop movement, and Cody thought he was the guy to usher it in. He sent demo tapes to stations all over the country.
In June 1983, he got the call: Hal Harold, Charlotte, North Carolina. WGIV-AM, the city's premier Black music station, was looking for a new host. Time slot? Afternoon drive. During the next six years, over the radio and through his short-lived but beloved television program, The Don Cody Show, he helped bring a midsized, somewhat dull Southern city into the hip-hop era.
"That was the whole concept: the people that live in Charlotte and the surrounding areas, they had two to three minutes to shine, whether they were a singer, a rapper, a recording artist," Cody says from Florida, where he lives. "We were giving back to the community."
In the early 1980s, people had new ways to consume popular music. The Sony Walkman and boomboxes, products of the late 1970s, gave records reach beyond the living room—but television afforded new alternatives even there. Robert Johnson founded Black Entertainment Television in 1980. MTV launched in '81. In Chicago, Don Cornelius' variety show, Soul Train, was barreling into its second decade. It was as if America had cranked up the volume and flung its windows open for the world to hear.
The WGIV building, just off Interstate 77 at Toomey Avenue and Remount Road, was the moment's consulate in Charlotte. "WGIV was the center of communication," says Todd Haygood, a former DJ. "When Black folks needed to know what was happening in the Black community, WGIV was where you went to."
As the 3-to-7 p.m.-drive voice, Cody quickly became a clarion for Charlotte's Black community, and he was willing to share the microphone. He opened the phone lines for segments like "Roll Call," where he let callers recite their own raps live on air, and "Communicate for a Date," when listeners could phone in and describe their ideal companion.
One afternoon, Cody took a call from a woman who described her ideal man. Cody asked, "Well, what can a man do to turn you off?"
"Wear white shoes."
The only sound was faint background giggling. "Don wore flashy suits," Haygood says, "and he loved wearing white shoes."
The phone lines were full. WGIV soon moved him from afternoons to the morning drive, then promoted him to program director.
In May 1987, Fonda Sanders, an executive producer of a local public access television show, approached Cody about hosting a program. Cody had done some television work in St. Louis, and he saw an opportunity to grow his platform. Sanders, Cody, and the team signed up for four-hour blocks in the shared studio, Cody put the word out on the radio, and kids began to show up. Dancers and other guests numbered 50, then 100.
"We had to get security because there were so many people," says Sanders, the show's first producer. "It was like Soul Train."
But public access meant no commercials, so nobody was getting paid. Cody wanted to enhance the production value, too. Within three months, he'd convinced the management of Cablevision to found a local commercial station, Channel 15, that put many Charlotte businesses on the air for the first time. Cody's new Saturday night program, The Don Cody Show, grew into a one-hour variety show with interviews, dance competitions, and extended versions of "Roll Call." Nothing like it had ever been seen on TV in Charlotte.
When national artists passed through Charlotte to promote records and concerts, they usually stopped at WGIV, and many appeared on The Don Cody Show. Local acts and artists rubbed shoulders with chart-toppers. When Run-DMC was in town, they appeared on Cody's radio and TV programs. Same with Big Daddy Kane and Keith Sweat. Cody created Dance Wars, a Carolinas-wide dance competition series that allowed local high school students to perform before live audiences. Cody recorded and aired the top routines on his TV show on Saturday, and the live audiences often included professional athletes, artists, and other celebs that the local high schoolers had grown up idolizing.
"I mean, football players, basketball players, they had the money to buy these tickets," Cody says. "But they were asking me for tickets for the prestige because they knew I had front-row or backstage passes."
A group of high school dancers who called themselves The Body Talkers won the first Dance Wars in 1985 at the Grady Cole Center. Wearing matching hooded sweatshirts and jeans, the group claimed a $300 prize, a 2-foot trophy, and a photograph alongside Cody that ran in The Charlotte Observer.
"It was wonderful. You're kind of known, but then when you win something like that? Man!" says Body Talker Reggie Grier, who still lives in Charlotte and promotes local parties and events. "It was packed, and everybody sees you on the stage, and you get a lot of popularity from things like that. … It was just something amazing to bring that type of atmosphere to Charlotte."
On the unseasonably warm evening of Nov. 26, 1988, Don Cody arrived at the Cole Center for Dance Wars '88. Dana Dane was the headliner, and Cody expected a large crowd. But he pulled his Lincoln Town Car into the parking lot and was shocked by what he saw: a rainbow river that ran along the exterior. "It was jam-packed, sold out," Cody says. He saw the green and white of Myers Park High School, the maroon and gold of West Charlotte, the blue and silver of Garinger, all waiting to buy $5 tickets. The event had grown into a mainstay of Charlotte youth culture.
Inside, with Cody as emcee, Dana Dane worked the crowd into a lather with "Nightmares," "Cinderfella Dana Dane," and "This Be The Def Beat." The night had juice. But daybreak always comes.
It came sooner than anyone thought, with a hurricane. Hugo sliced ashore on Sept. 21, 1989, and roared through Charlotte overnight, leaving the city covered in downed trees and power outages that took weeks to restore. Cody's ad sales dried up as many of his mom-and-pop clients shut down, many permanently. WGIV had recently changed hands, and the new ownership told Cody to choose between radio and television. Not long after, a cluster of radio stations in Little Rock, Arkansas, offered him their general manager job, and he took it.
"I didn't feel really great leaving the Queen City," he says. "But I had to move on because I had to support my family."
Today, Cody, 64, lives in Fort Lauderdale, where for 22 years he's owned and operated Moses Media Inc., which promotes artists and their records to radio stations throughout the country. He has achieved success at every stop, but for nearly seven years in Charlotte, he helped turn an entire city on.
"(Charlotte) didn't have a platform where local artists, somebody who lived and breathed right there in that city, your next-door neighbor or one of your classmates, could get on TV and perform their talents," Cody remembers. "There was nothing like it."
Jarrett Van Meter is a writer who splits time between Lexington, Kentucky, and Asheville.