A Lucky Start to 2015
There are a few dishes believed to help you start your year off right, and we know where to find them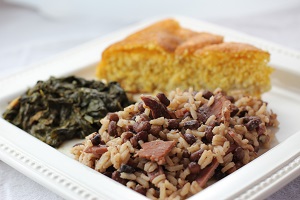 Welcome to 2015 and the first weekend of the year. To start things off right, why not indulge in the old tradition of eating something "lucky" to help out for the next 365 days?
Dishes like pork, lentils, circular pastries, grapes, and black-eyed peas are all famed for providing a bit of luck. And, lucky for all of us, we've rounded up a few Charlotte restaurants dishing up the New Year's favs this week.
The Kings Kitchen: This not-for-profit restaurant in uptown is chock-full of southern favorites. Hoppin' John – a long-standing lucky dish – is served up here with gold rice and pico de gallo for a south-of-the-border flair.
Blue Taj: The Italians believe that lentils are lucky since they symbolize abundance and wealth. In India, too, lentils are a staple; try the Dal Tarka which combines yellow lentils, ginger, garlic, tomatoes, and onions.
Your Mom's Doughnuts: This farm-to-table doughnut shop is serving up some of the most interesting and delicious in Charlotte. Turns out doughnuts are considered lucky because of their circular shape – thought to symbolize symmetry and coming full circle.
The Asbury: Pork is thought to bring a bit of good thanks to its fat and richness. The Asbury's chef Chris Coleman is serving up lacquered pork belly alongside braised field peas, cornbread (another lucky dish!), and arugula.
Heirloom: Greens (especially of collard variety) are thought to bring luck since they're the same color of money! You can find a dish featuring country-braised collards at Clark Barlowe's restaurant.