A Matthews Home Gets a Living Room Makeover
IKEA's new design helps this family of five function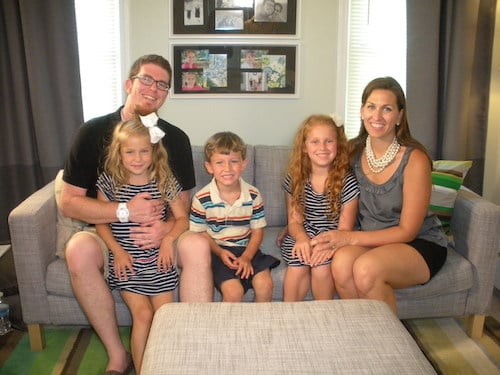 This past April, Chad and Emily Fair submitted a video to IKEA. The home-furnishings company was looking for families in the Charlotte area that needed help remaking a room. The Fairs, who live in Matthews, didn't expect to win. But they did.
"In the video, we said, 'I don't care if you come in and paint the place orange. We need help. We've hit a wall, and we're stuck'" Emily says. The family of five, including Sophia, 8; Piper, 6; and Mac, 4, needed a functional living space.
"They asked me my design style, and I said washable," Emily says.
The L-shaped living-room-and-dining-room combination was cramped with toys and hemmed in by a sectional sofa. No matter where they positioned the pieces, Chad and Emily couldn't make the room work. The dining space had an overhead chandelier, but no table. So the family squeezed around a table in the kitchen for meals.
The Fairs' video won over the IKEA Home Tour Squad, and the five squad members descended on the Fairs' home this week. The team includes IKEA employees from stores across the country who've given up a year of work in the store to travel to different states and give in-home makeovers.
"It makes [the job] more rewarding and a little more personal," says team member Robin Bach. When she saw the opportunity posted in the Atlanta store where she works as an interior designer, she said, "That's my job."
The crew made an initial visit to the Fair-family home, located in a neighborhood just off of Independence Boulevard, last Monday. They shot the "before" portion of the video that will go live on the IKEA YouTube channel next week. Monday night, the Fairs moved out all of their old furnishings. On Tuesday, a friend helped repaint. And then on Wednesday (of last week) the boxes arrived.
Chad and Emily spent this past weekend wondering what the squad would do with all of the pieces. Then earlier this week, the construction started. The crew divided the L-shaped space into three rooms, not physically with walls, but with the furniture configuration. When the big reveal came on Wednesday, Chad and Emily kept gazing around like they were in someone else's home.
"I want to say, 'I want to take these chairs to our house,'" Emily says. "But they're in my house."
Check back for another blog post next week when the full makeover video goes live. We'll fill in all the details then. It's a transformation you don't want to miss.