A Mother's Day Bouquet
A local florist and mother of three offers her tips for personalizing the gift of flowers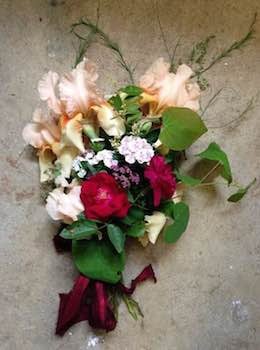 When it comes to Mother's Day, flowers are a simple, beautiful gift for your mother or a festive enhancement to a special meal or gathering. When we spoke with Simone McDowell, of HoneeBee Gifts, earlier in the week for our post about Mother's Day gifts, she said flowers are still the No. 1 present for moms.
But a gift of flowers doesn't have to mean a dozen red roses. Deedie Springer of Springvine Design in Iron Station shares some tips with us for creating your own floral centerpiece, bouquet, or even a corsage.
If you're planning a Mother's Day meal (brunch is becoming a popular choice), set the scene with a nice tablecloth. Springer enjoys finding a vintage cloth with a pretty print. Antique shops have some great vintage finds. A clean, flat sheet would even work. If you have any colors on your plates, choose one with similar hues.
Whether you're making a place setting or presenting mom with a bouquet, think about the vase. You could sneak one of her favorite vases or pitchers and build the arrangement in it. Recently, Springer has been using vintage candy dishes and bowls for arrangements. Teapots and pitchers are also fun to use. Stick a piece of floral foam in the bottom, or ball up a piece of chicken wire to use as a form. An assortment of bud vases works well for a long table. "You can use things you have," Springer says. "You don't necessarily have to purchase new things."
Springer starts her arrangements with some greenery. Her advice: scout your yard. When she moved into her house, she initially asked her husband to pull up all of the dwarf nandina on the property. He procrastinated, and now she's glad he did. She uses it for floral arrangements all the time. The leaves of Bradford pear trees also work well.
For flowers, Springer loves scouring the farmers markets. The Charlotte Regional Farmers Market on Yorkmont Road is a favorite stop for her. If you plan to purchase flowers on Saturday and want them to last until Sunday, Springer recommends tulips, lilies, and iris. Poppies are pretty, but they only last for a day.
As you put together the bouquet and arrange the flowers, don't be afraid to trim the stems. Springer recommends creating a "base layer" around the edge of the container and then building layers on top. Then you can add what Springer calls "dancer flowers" that stick out and create a natural, organic style. If the arrangement will be seen from all sides, make sure there are no holes and that everyone has a good view from his or her spot at the table.
Corsages are a thoughtful touch for Mother's Day. Making your own can be a challenge, but it can be fun and the result is personal. "It doesn't have to be a lot," Springer says. The secret is to start with a base leaf. Then add something textural, such as a berry or small bloom. Next add a larger bloom, such as a rose. Some flowers will wilt quickly without water. If you plan to use something from your yard, Springer recommends doing a test cutting the day before. If it holds up for about an hour and a half, it should be fine to use.
Finish your creation, whether a corsage or bouquet, with a ribbon. Springer likes the selection at Hobby Lobby. Find something colorful and tie it in a simple bow or knot.
"I think it's neat to see someone's own take," Springer says. "Sometimes I forget how simple it can be."