A Musical Comedy about Senior Living
'Lunch at the Picadilly' comes to Booth Playhouse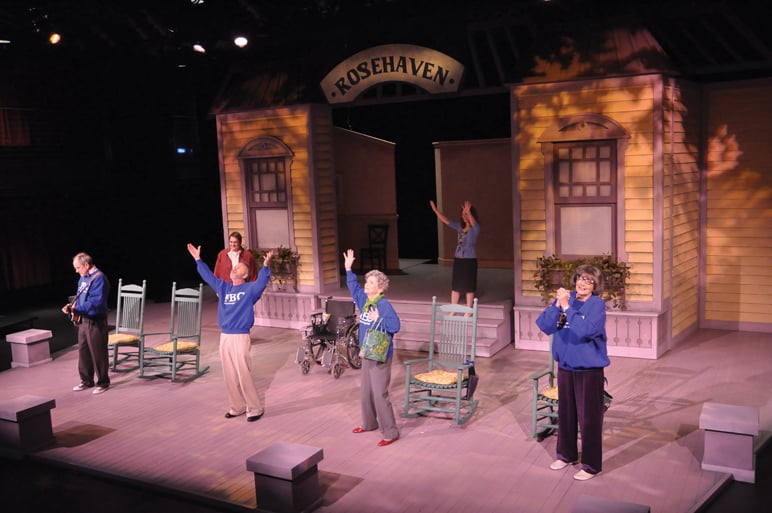 THIS FALL, most productions at the Blumenthal Performing Arts Center focus on familiar characters: Beauty and the Beast at Belk Theater in late September, Dracula at Booth Playhouse in October. But on September 17, Booth Playhouse will be transformed into a backdrop not often seen in the theater: an assisted-living home for seniors.
Lunch at the Piccadilly is a musical comedy, adapted from a novel by North Carolina writer Clyde Edgerton, that follows the characters in an assisted-living home that's under new ownership. Aldersgate, a continuing care retirement community on Shamrock Drive east of uptown, provided some of the financial backing to bring the play to Charlotte.
It debuted at Cape Fear Regional Theatre in Fayetteville, was produced at the Festival Stage in Winston-Salem, and performed at the York Theatre Company in New York. Producer and director Steve Umberger brings the production here with his company, Playworks. "The 90-plus crowd is the fastest-growing demographic of our population," Umberger says. "There are more and more people having to make decisions about care for the aging. Everyone has a family member or knows someone in an advanced age, so the play hits home for everyone."
In 1976, Umberger founded Charlotte Repertory Theatre, which became known for its highly controversial production of Angels in America in the 1990s. After the group shut its doors in 2005, Umberger moved on to direct and produce plays across the country before founding Playworks.
He says audiences may be surprised by the "adventurous nature" of the production and its frankness on a sobering topic. Tim Rogers, director of mission advancement at Aldersgate, says that's what attracted him to the play. Every day, 10,000 people in the United States turn 65, he says, and this "so-called silver tsunami" needs to be handled with sensitivity and honesty.
"Our mission always has been to broaden the safety net for seniors," Rogers says. "We hope this production gets the conversation happening around these issues, and gets past the cuddle factor that's usually associated with seniors."
Aldergsate is planning a series of community events addressing aging, health care, and elderly living arrangements to coincide with the production.
Rogers hopes not only to broaden the public's perspective on senior living, but also to entertain the members of Aldersgate, a community that has been in the city for 70 years.
"We hope they have fun with it and that they will be honored by this production," he says. "We want to show the vitality and vibrancy of seniors. They are fun; they are kooky. And really, this is a coming-of-age story, for a generation that's usually not associated with the genre. They experience loss, love, just like anyone of any age."
---
Lunch at the Piccadilly
$10-$42
Sept. 17-Oct. 4
Booth Playhouse
Community Conversation
This fall, Aldersgate launches a series of Community Conversations in which experts will discuss how to better serve seniors. The first event includes a keynote speech by principals from CJMW Architecture.
9 a.m.-1 p.m., Sept. 22
Aldersgate
3800 Shamrock Dr.
Info/Reservations: Amanda Finnen, 704-532-7099
---
This article appears in the September 2015 issue of Charlotte Magazine
Did you like what you read here? Subscribe to Charlotte Magazine »
---