A Night Out in … Wesley Heights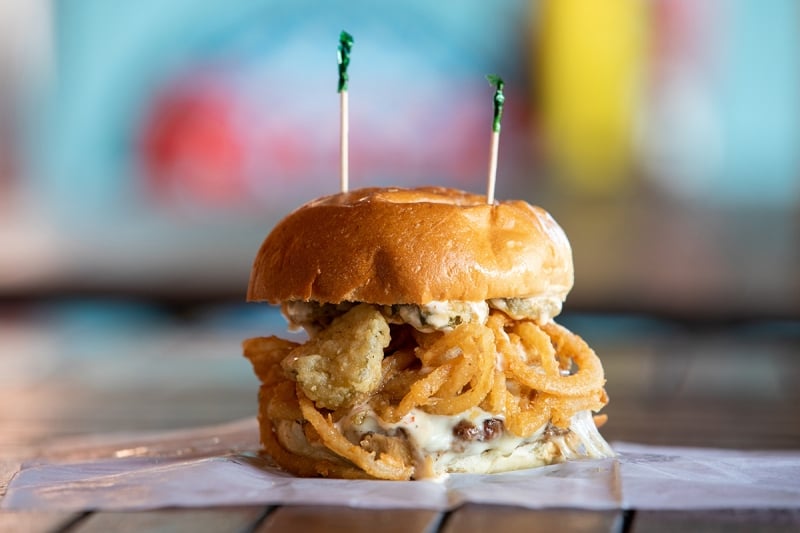 ​THIS NEIGHBORHOOD is just outside Uptown and offers both the old and new for a delightful date night.
Dinner:
Pinky's Westside Grill is a must in this neighborhood. Look for the Volkswagen Beetle atop the roof and then watch out for the triceratops by the door. Once inside, the luchador masks on the wall, the hotrod hoods and the overall funk will keep you entertained. Ask for the vegan menu (Vegan pimiento cheese?!) and because you're here on the west side, order your burger "westside-style."
Drinks/Dessert:
Rhino Market and Deli is an ideal after-Pinky's stop. Just across the street from Pinky's, this deli-convenience store-bar mash-up hosts trivia on Mondays, live entertainment from poets and singer on Wednesdays, a DJ on Fridays and live music on Saturdays. Grab a few cold ones from the cooler, something sweet from the shelves and stay a while.
Entertainment:
Charlotte's oldest gay bar, The Scorpio, it puts on quite the drag show. The bar, which just celebrated its 50th year in business this year, is best on Friday nights. There's a hefty cover (typically $12) on Saturday nights, but the place is always popping then as well. The bar no longer offers its deadly $10 all-you-can-drink vodka specials, but maybe that's for the best. The bar is old-school and cash only, so bring your bills (for drinks and for tipping the drag queens).
Unexpected activity:
It's not "unexpected," but it's new. The neighborhood has its first brewery: Town Brewing Co., and it's definitely worth a try. Biddleville/Smallwood has the bustling Blue Blaze Brewing, but this newbie just opened in the fall of 2018. The brewery offers a range of beers (Fancy a sour with hints of mango and vanilla?) and an impressively diverse menu for a brewery.