A Noble Cause
The King's Kitchen is serving good food at good prices for a good cause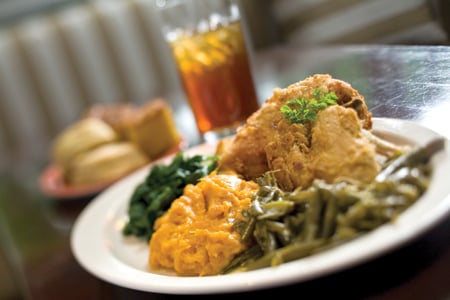 Chef Jim Noble isn't known for casual fare or low prices. His restaurants, Rooster's Wood-Fired Kitchen and Noble's Restaurant, are both places where guests can expect to dress up and spend money for their night out. Not so at his newest venture, The King's Kitchen in uptown, where a wait staff dressed in jeans sets the restaurant's casual tone and the most popular item is two pieces of pan-fried chicken served with three fresh vegetable sides for $10.
But don't let the straightforward food and simple atmosphere fool you. The quality and taste here are just as impressive as what you'd expect from one of the city's top restaurateurs. You'll find dishes like fried flounder, featuring a perfectly crisp exterior that gives way to tender, flaky meat ($9 with three sides) and a slightly sweet cornbread so soft and moist it will make the biscuits look boring (the complimentary biscuits and cornbread are available upon request).
Unlike your average eating establishment, though, this restaurant's benefits don't end on your plate. Noble began it as a faith-based, nonprofit venture. The King's Kitchen employs people who have a difficult time finding work, including those who have recently graduated from rehab or come out of prison, as well as youth at risk of dropping out of school. Its mission is to train and minister to those employees.
But don't expect a noticeable difference in the staff. If anything, they are friendlier and have more knowledge of the menu than at a typical restaurant. In addition to its charitable training program, the restaurant donates all of its profits to faith-based feeding centers in Charlotte and international programs designed to feed the hungry. While those profits may not be coming from high prices, they are coming from the crowds already filling into the convivial dining room with large windows facing the corner of West Trade and North Church streets. Weekday lunches are packed with uptown workers in business attire chatting over the selection of sandwiches, including a creamy egg salad ($6) and a rich grilled pimento cheese ($5), while Sunday lunch brings out families and couples for plates piled high with fresh veggies like pan-seared cabbage, butter beans, and creamed corn ($2.50 each). If you're looking for an economical version of a night uptown, the restaurant recently began serving dinner from the same menu. Even if you can't make it for dinner, stop by for dessert. Southern favorites like pecan pie, pound cake, and banana pudding are big enough to share, but sweet and delicious enough you won't want to — and why should you? They're only $5 and it's going to a good cause.