A Non-Beer Drinker's Take on 6 Charlotte Brews
What happens when someone who doesn't drink a lot of beer … drinks a lot of beer?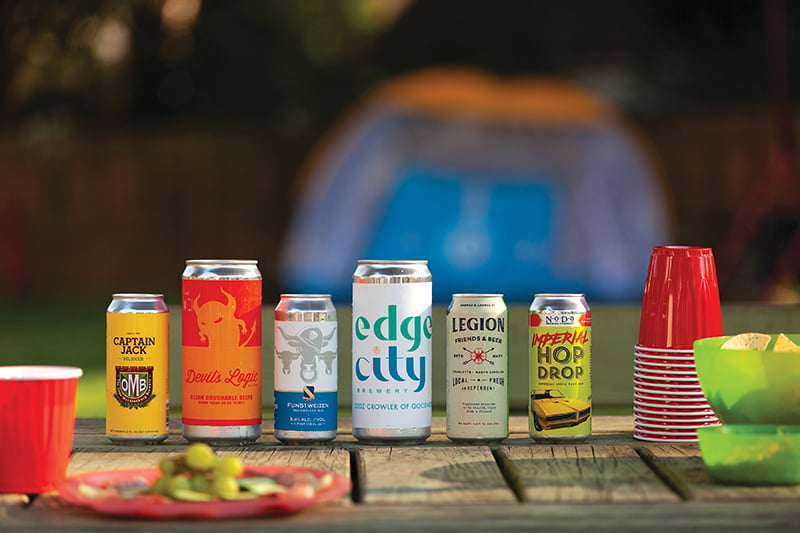 I enjoy a cold beer on a hot day, but I would hardly describe myself as an accomplished beer drinker. Red wine is usually my adult beverage of choice. I'll have an occasional Bud Light or Michelob Ultra at home, Shock Top if I'm feeling fancy. I ask brewery servers to bring me whatever tastes most like that or Blue Moon. I avoid words like "bitter" and "hoppy," and I've never yearned to drink a stout.
My editor decided it was time to change that. For our Nightlife issue, he thought it would be fun (read: amusing) for me to taste six local brews and register my reactions. I said I was game. My co-workers asked where and when they should show up to watch.
Greg went to breweries throughout the city and collected pint cans and 32-ounce crowlers of everything from lager to hefeweizen to IPA. We gathered on my patio on a warm spring evening to sample his curated lineup. I made sure we had plenty of snacks and ice water (hydrate responsibly!), and we got to work.
Captain Jack Pilsner
The Olde Mecklenburg Brewery, 4.8% ABV
Greg has decided we'll start with the lowest-ABV beer and work our way up, so we begin with this light lager, one of Charlotte craft brewing's prototype beers. I take a swig, and it's surprisingly refreshing, not bitter at all. I'm also coming into this challenge thirsty and famished, which could explain its immediate appeal. Its mild yeastiness gives me the sense I'm drinking white bread. I've never really understood the word "drinkable" (like, as opposed to what?), but if I had to use "drinkable" to describe a beverage, this would be it. I could drink this with a burger or slice of pizza. Or at a pool party! The yellow can would look so cute with a beach towel. After a few more sips, I'm certain it would pair well with my second grader's math homework, too. Versatility!
Shuck It! black Oyster Gose
Devil's Logic Brewing (collaboration with Town Brewing), 5.1% ABV
I pause for a ham-and-cheese slider in preparation for round two. Greg explains that this gose (which, I've learned, is pronounced "GO-zuh") is brewed with dark malts and 30 pounds of oysters, sea salt, coriander, and 40 pounds of lemon zest. Mmmmkay. The orange crowler displays an image of a devil, and the tagline reads, "Drink fresh or go to hell," so I'm bracing for an assault on my taste buds. I needn't have worried. This can just talks a big game. I expect a bigger punch of citrus, but the sourness hits me as an aftertaste. It leads with a salty, almost savory bite. I take a few more sips to be sure I've gotten the full flavor profile. Thirty-two ounces sounded excessive, but I'm impressing myself with my beer-drinking ability. (Note: I did not consume any of these crowlers by myself. My co-workers stepped up and did their part.)
Fun51weizen Hefeweizen
Armored Cow Brewing Co., 5.4% ABV
With a name like that, I expect the label to be a bit more, um, fun? Greg encourages me to give it a sniff before I sip … and I feel like this beer gets me and my taste buds. It has that familiar wheat smell I know and love. I take a sip, and it throws me. I expect citrus and get banana instead. Must be the "banana-clove nose" they promised. I take another sip. It's growing on me. I guess I shouldn't judge a beer by its label. It tastes like banana ice cream if banana ice cream was a beer. It's the heaviest brew I've tried yet. I could never have more than one. I take another sip. We've got some guacamole that's not gonna eat itself, so I grab a few chips and dig in. Pairs nicely with the banana. Very drinkable.
Edge of Darkness Milk Stout
Edge City Brewery, 6% ABV
I'm getting full. But I take my job seriously and go where I'm called. A quitter I am not. This beer is very aromatic, almost perfumed. I take a sip and taste coffee. I don't hate it. But I don't love it, either. I take another sip. It's like carbonated chocolate milk, but not sweet like candy. Greg calls stouts the beers you can chew, and that's accurate. I've heard they're an acquired taste, and I'm not sure this is a taste I need to acquire. How could anyone eat dinner after a stout? This is like a full meal. Not my jam. We press on.
Juicy Jay East Coast IPA
Legion Brewing, 6.3% ABV
I fear this won't be a popular opinion with Charlotte magazine readers who voted it the winner of our inaugural Beer Bracket two years ago, but I don't enjoy Juicy Jay. There, I said it. I guess you need a certain level of bro-ness to vibe its essence. It promises a "fruit-forward flavor" with notes of mango and orange, so I expect a light, citrusy swig. But the smell doesn't match the taste. It's too bitter; those hops need to back the hell off. And the logo looks like a tattoo. It's a craft beer, so you know you're not getting a Bud Light, but all I taste is bitter. Zero drinkability.
Imperial Hop Drop West Coast IPA
NoDa Brewing Company, 9.2% ABV
Greg warns me: This isn't a beer. It's a dare. He's not wrong. This is the limited edition "punch-you-in-the-face" version of the regular Hop Drop 'N Roll, which is potent enough at 7.2% ABV. It smells like a tropical fruit garden but tastes like kerosene. This is the beer I would drink if I was trying to get drunk. Helloooooo, alcohol content! Does 9.2% ABV make me an accomplished beer drinker? I think it does. Am I slurring? I think I'm slurring. This beer tastes like I'm not going to work tomorrow.
Epilogue
We have some Captain Jack left, so I circle back to make sure it was, in fact, my favorite of the lineup. It is. Liquid bread. I ask Greg if we can make this a recurring meeting. He says he'll look into it and thanks me for my service.